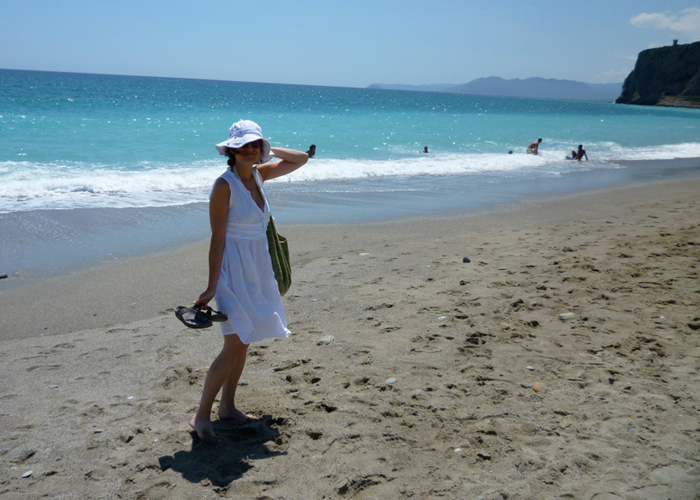 As the owner and founder of Haven in Paris, Erica Berman is a busy woman, dividing her time between Massachusetts, Italy and France. I discovered her company via the HIP Paris blog, which is always filled with parisian inspiration and fabulous travel tips! I find myself referencing both of her sites often for my francophile fix, and in the meantime have enjoyed corresponding with Erica. I hope to stay in one of her fabulous Paris rentals on our next trip…the hard part is choosing which one! That will be a good problem. Merci bien Erica!
Your favourite virtue.
Honesty and the ability to admit when you are wrong. 
If not yourself, who would you be?
I think I would be a cat for oh, so many reasons.
Your favourite colour and flower.
I love the Haven in Paris green, and lilacs for the scent.
Your idea of happiness.
I would love to have more free time and good health to enjoy it with. 
Your idea of misery.
How we are destroying our planet and what is going on in Japan right now.
Your biggest flaw.
I am very critical of myself and often of others as well. I am a workaholic and don't know when or how to stop sometimes. 
Your favourite qualities in friends.
A sense of humor, faithfulness, honesty.
Your favourite food & drink.
Penne Arrabiata, homemade pizza, mint chocolate chip ice cream with sprinkles, a hot fudge sunday with homemade whipped cream, passion fruit, pesto genovese, blueberry pancakes, toll house cookies, caesar salad, vegetarian burritos, and all things local and organic. 
Where would you like to live?
Paris, France, somewhere on the coast of Maine, Brooklyn, Genova, Italy…
Your favourite occupation.
I love to read, walk in the woods, travel, go to farmer's markets, cook, sleep, take photos, snuggle with my kitty and travel!
 **the proust q & a is a regular feature..check out the archives here**