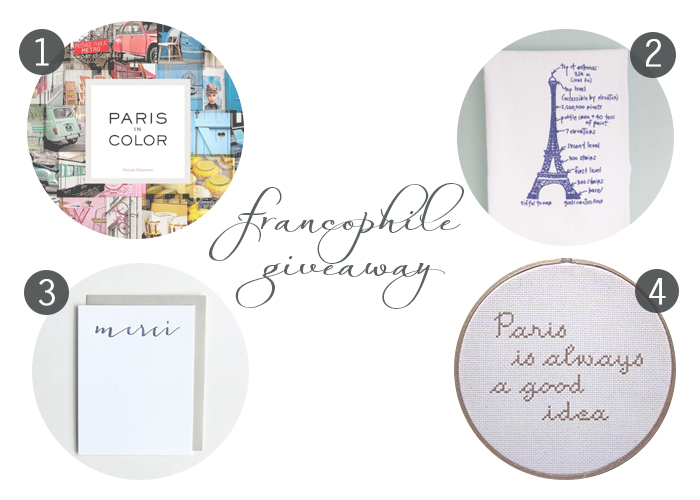 It's day one of GIVEAWAY week! There will be three in total- for francophiles, mamas, and design aficionados (and yes, you may enter them all).Why three you ask? In celebration of three years of blogging + connecting with all of you…I wanted to offer a little something for everyone. I figure the best way to kick things off is with one dedicated to francophiles-after all, that is how my blog got it's start. My love language is gift giving-nothing makes me happier than bestowing someone I care about with a thoughtful present. And I care about you all, my dear readers…so let the giving begin! Special thanks to the lovely artists + friends featured here who have made this possible with their generosity and support. I encourage you to explore their respective sites and discover all of their talents and offerings. Bonne chance!
ONE LUCKY WINNER WILL RECEIVE
#1   a signed copy of paris in color by nichole robertson
#2   a pair of hand illustrated eiffel tower tea towels by girls can tell
#3   a set of 10 letterpress merci notecards/envelopes by ink + iron
#4   this custom hand-stitched embroidered wall art by chez sucre chez
FOUR WAYS TO ENTER
#1  leave a comment stating why you would like to win
#2 "like" fleurishing on facebook
#3  share the contest page on twitter and include the hashtag #francophilegiveaway
#4  share this giveaway on your own blog and leave a comment with the link
You will receive one entry per action, increasing your chances to win (please leave a comment per action). Entries must be posted by Thursday June 6th to qualify. The winner will be drawn randomly and announced here on Friday June 7th! Please do not leave your email in the body of the comment, only in the allotted boxes. $100 USD total value. Sorry, limited to readers in the U.S. only.
UPDATE-THE WINNER IS…KATIE MATTERN!! THANK YOU ALL FOR PARTICIPATING!