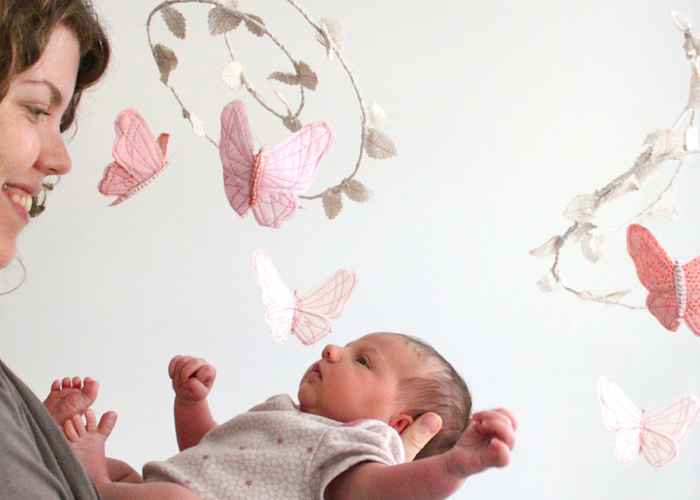 As an artist, entrepreneur, and Philadelphia native, it's only natural that I thought of  the talented Jahje Ives to inaugurate the Philly Creatives series. Her childhood was rooted in creativity, and she was destined to become a maker. While nesting with her first child, her business was born, and her artistry is evident in each of her handcrafted creations. Her innovative designs have helped to advance the industry of baby + kids design, which is something I am also personally passionate about. I'm lucky to call Jahje a friend, and she is just as lovely and gifted as she appears online. She is truly an artist in every respect, a successful business owner, and proud mother of two…I hope you enjoy learning more about her background, inspiration, and creative journey. A big thank you to Jahje for her enthusiastic participation!
explain your business and the idea behind it.
My company is Baby Jives Co which creates heirloom mobiles inspired by the magic and wonder of childhood.  My background is in painting and sculpture so I often think of the mobiles as props or sculptures. I tend to pay attention to the smallest detail and want to make works that can grow up with a child or simply exist in any home.
at what point did you decide to make your passion a business, and what inspired you? 
When I was pregnant with my first child I searched for a unique mobile that was not made of plastic or covered with cartoon animals. I didn't find anything I liked so I decided to make one using fabric that I had been hoarding for years (I love fabric!). After it was done many of my friends who were having babies asked me to make them mobiles too. I thought, hmm this may be something so I registered my shop name with Etsy shortly before my son was born in January 2009 but it took me almost a year and a half to get things ready (and to get my son sleeping). I opened my shop in August 2010.
what is the story behind your business name?
Baby Jives was our nickname for the baby when I was pregnant. We didn't know if we were having a boy or girl so we simply referred to the baby as "baby Jives" which is an abbreviation of our names – Joe and Jahje Ives. Then our son was born, got a real name and I kept the name Baby Jives for my business.
what brought you to philadelphia, and how does the city inform your work?
Birth brought me to Philadelphia. I was born outside the city in Doylestown and then shortly thereafter my parents moved to Narberth. I was raised there then decided to go to University of the Arts for my bachelors degree in Crafts. So I am a Philly girl, born and bred. That said, I've never really thought about how the city might inform my work. If anything, visiting places with my kids like Morris Arboretum and the Azalea Gardens by the PMA (two of our favorite spots) do inspire me when I head back to my studio.
how did you get into the business of making things?
I went to school at University of the Arts for Crafts and then Tyler School of Art for Painting so I've been studying to be maker for years but it wasn't until I was laid off following the birth of my son that I decided I wanted to try being a maker full time. Before his arrival I had been an adjunct professor at Tyler, teaching video and drawing and a part time assistant at a construction company. I decided to make the leap into my forming my own company and have never regretted it.
what inspires you?
My children. I want to create things that make their eyes light up and that will last…to be handed down to their kids years from now.The things I cherish most are those that are imperfect and have a real sense of the person who made them.  I have always loved making things – it's just part of who I am. When I bring my kids into my studio they always smile and reach for my mobiles. Knowing that my work elicits that kind of response is what keeps me going on those late nights when I am running on fumes.
how has social media helped to further your business?
I love social media…sometimes a bit too much as I have to purposely lose my phone to disconnect. You can find me on Facebook, Twitter and Instagram, and I use them all in different ways. I use Twitter mainly as a platform to talk to other businesses owners and friends – it's like a virtual water cooler for me. Facebook used to be my main way to connect with customers but as they have made it harder in the past year to reach your customers and now make you pay for your posts to reach a larger audience, I use that more to post articles about Baby Jives Co, show pictures from customers and share select images from Instagram. The newest for me is Instagram-I joined last fall and I have worked pretty aggressively to grow my presence there with amazing results. Right now I find that I get at least one sale a day from Instagram and this month was my busiest ever which I know was a result of it, since I was doing a giveaway each week with other brands I love to celebrate my 3rd year of business. I post a mix of business life with studio shots, behind the scenes, new release images and my personal life, focusing on more universal family moments and always keeping in mind to make it my best photos (not just every shot I take of my kids being cute).
when did you know you'd "made it" as a creative entrepreneur?
This past year I've had my mobiles featured TWICE in Pregnancy and Newborn Magazine which was pretty thrilling. Even more so because they had simply found me, I hadn't sent them a press kit or anything.
what advice would you give to someone considering a similar path?
I just celebrated by 3rd year of business last month and shared 3 things I think have contributed to my success, but I think the most important aspect of my success is being original. If you want to gain notice in this very big world filled with amazing people you need to have a clear vision of who you are and what you are not.
what is the most challenging aspect of running your own business?
When you are just starting out you have to work almost non-stop. Knowing where to draw the lines and when to stop working is hard for me, especially since I choose to work from home and to work in pockets of time around my kids and family. Sometimes I have to deal with some major guilt when I have to ignore everyone and ask to be left alone so I can work.  I started my business so I could have the freedom to be home and actively raise my children while pursuing a creative life but sometimes I feel like my business is the loud attention hog and my kids have to wait while I deal with it. As I grow part of my development involves figuring out what I can and need to delegate so I can reclaim so of the family time that I miss when I get totally consumed. But even with that I know that I wouldn't trade this for anything right now.
please check out Jahje elsewhere… shop / blog / etsy / twitter / facebook / instagram / pinterest