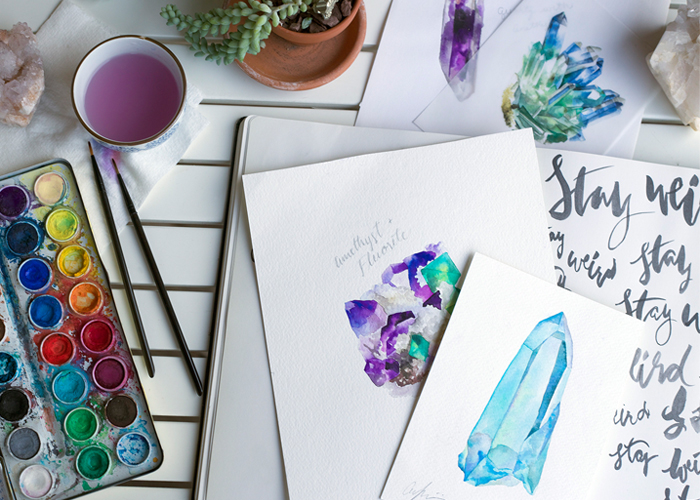 Allow me the pleasure of introducing you to Andrea Fairservice of Song & Dance Design. Full time graphic/textile designer by day, painter/photographer/craft enthusiast by night. Between juggling her full time job and independent work as an artist, Andrea lives a very busy lifestyle, but stays centered through yoga (wow). Drawing inspiration from nature, her detailed, watercolor crystal paintings have become one of her favorite things to paint, and has garnered her great press (they're to die for). Andrea's etsy shop offers a variety of goodies, including art prints, custom stamps, notecards, and drawings. Check out her impressive portfolio + be sure to wander over to her Etsy shop!
d
define creative.
The process of feeling inspired and acting on it.
how did you get into the business of making things?
My Mom has always been a crafty/artistic person. For as long as I can remember she would take part in local craft fairs and as I got a little older she began to encourage me to make my own things and sell them with her at her table. Over the years I've held onto that little spark of making and selling my creations and it's begun to blossom into something different with my design and fine arts work.
at what point did you decide to make your passion a business, and what inspired you?
After so many of my friends and family kept telling me I really should try to sell my work and get out there more. Then, once I had a few people outside of that circle request work from me, I really felt like I could do it.
what brought you to philadelphia, and how does the city inform your work?
My senior year of college I got an internship with a toy company right outside of Philly. I was extremely lucky and they offered me a designer position when I graduated so I packed up and moved. Now I work at a textile studio in Fishtown and find that I spend more and more time exploring in the city. I find so much about the city inspiring from the different neighborhoods, to the people and changes in scenery. In college most of my peers (including myself) focused on moving to New York for designer opportunities. I never really considered Philly until, through a lucky series of events, I got my job. Now I absolutely love it, and coming from a small town up north Philly is just the right size for me.
what is the most challenging aspect of running your own business?
Finding enough time in the day to accomplish everything I want to accomplish!
how + when did you get your first sale?
My actual first sale of something I've made was probably at a craft show with my Mom as a child. My first freelance client however came soon after graduating college, I helped out a friend from high school design a website for a local salon. It was definitely an interesting learning experience.
has social media helped to further your business?
I'm not a big social media person. I ditched my Facebook years ago and only really tweet something if I post something on my Instagram. I've interacted with a few successful people in the blog/self employed world and was really taken a back by how much of a slave they were to their social media outlets. So because of that I've made the conscious decision to just casually stick with Instagram and my blog. Although I only really post something maybe once a day I've received many job opportunities with clients all over the place and have made many valuable connections through my followers. It's also helped me take on creative projects that I otherwise may not of perused on my own, which I am very thankful of.
when did you know you'd "made it" as a creative entrepreneur? 
I'm not really sure if I will ever feel like I've totally made it. Just because I know as I grow my goals will grow with me.
what projects are you most proud of?
The originals I've made for clients always hold a special place in my heart. Recently I finished a series of watercolor birthstone paintings for a family and I also just collaborated with a local artist to hand letter a Ketubah for her niece's wedding that I was so honored to be a part of.
what drives you most as an independent creative?
The practice of always learning something new. Each new project is an opportunity for me to learn and grow as an artist and professional and I love that about the field I'm in.
please check out andrea elsewhere… etsy | blog | instagram | pinterest
**philly creatives is a regular feature…browse the archives here**