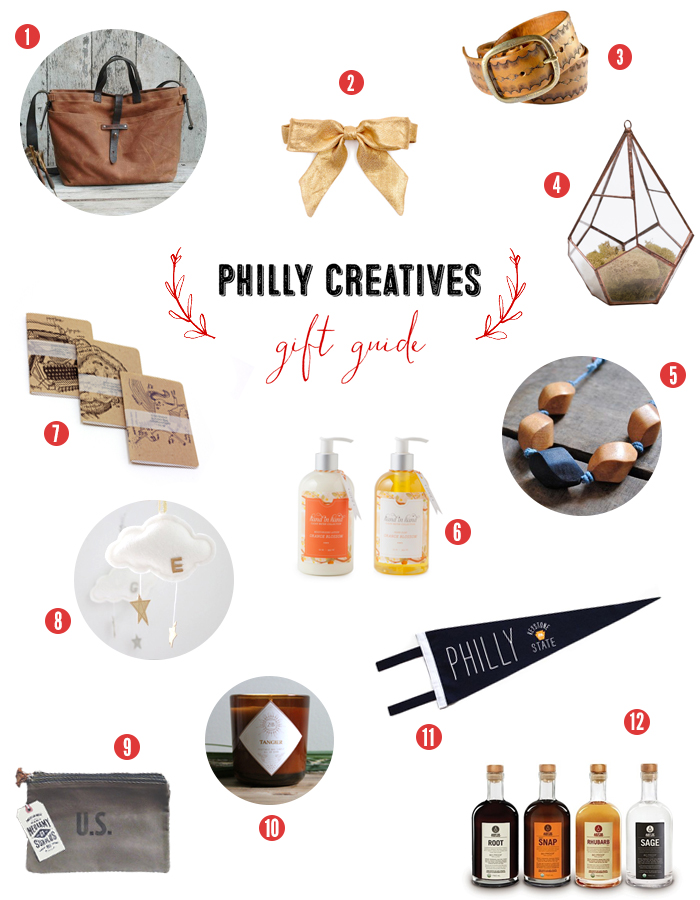 Every year I share gift ideas from makers + creatives in Philadelphia, in honor of Black Friday and Small Business Saturday. There is so much talent in this city I could make numerous gift guides, but I've narrowed it down to a festive twelve. Help support these talented small business owners + creatives, as well as the artisans in your own community.
happy shopping + happy holidays!
1…PEG + AWL waxed canvas tote in spice // use code SPOLIA for 20% off thru 12/1
2…FORAGE HABERDASHERY lady bow in metallic gold // use code HOLIDAY for 35% off thru 12/8
3…NORMAN PORTER frontier belt // use code BUTTERBALL for 20% off thru 12/1
4…ABJ GLASSWORKS teardrop terrarium kit // free domestic shipping on orders over $75 with code thanks14
5…HONEST ALCHEMY + KING OF THE BEASTS indigo dyed wooden necklace // enjoy 30% off thru 12/1
6…HAND IN HAND SOAP orange blossom liquid hand soap + lotion // use code GIVETHANKS for 25% off thru 12/1
7…GIRLS CAN TELL eco-friendly pocket notebooks // use code YAY30 for 30% off 
8…BABY JIVES CO personalized mini cloud ornament // offering a variety of holiday deals!
9…NEUARMY SURPLUS CO waxed canvas U.S. field pouch // visit site for details
10..ZOET BATHLATIER tangier candle // use code BF2014 for 15% off thru 11/30
11..THREE POTATO FOUR philadelphia pennant // use code 3P4THANKS for 30% off thru 12/2
12..ART IN THE AGE craft spirits // spirits not sold in store but support other local talent with numerous deals in store!