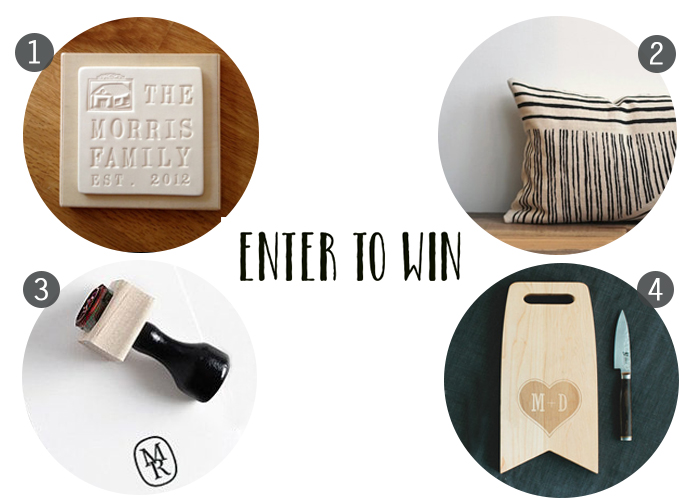 What an exciting week it's been! This is the last, but certainly not least…GIVEAWAY! This one is for all design aficionados, who have a passion for decor or get excited over handcrafted wares (like myself). As with every giveaway this week, each product represents and supports small business! My love language is gift giving-nothing makes me happier than bestowing someone I care about with a thoughtful present. And I care about you all, my dear readers! Special thanks to the lovely artists + friends featured here who have made this possible through their generosity and support. I encourage you to explore their respective sites and discover all of their talents and offerings. Good luck + HAPPY HOLIDAYS!
ONE LUCKY WINNER WILL RECEIVE
#1   one personalized custom house plaque by paloma's nest
#2   one hand printed, organic karnataka pillow by chanee vijay textiles
#3   a custom stacked monogram stamp by besotted brand
#4   one personalized maple flag cutting board by a heirloom
Entries must be posted by 11:59 PM on Saturday, December 6th to qualify. The winner will be drawn randomly (via Gleam + random.org) and announced here on December 7th. $230 USD total value. No geographical limitations!
CLICK THROUGH TO ENTER!