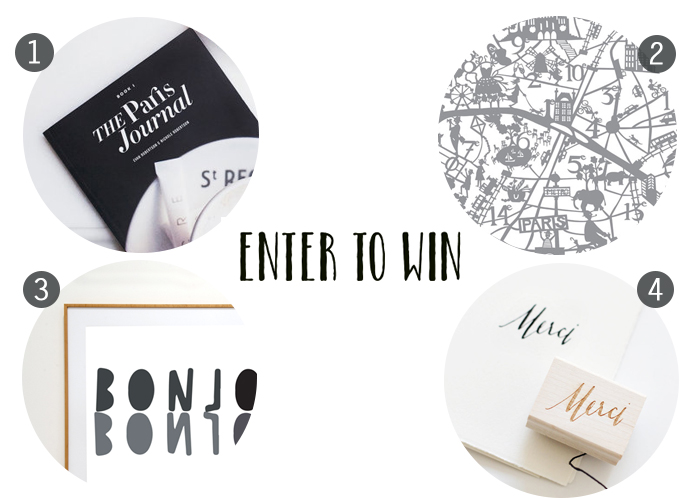 I'm kicking off December with a week of GIVEAWAYS! There will be three in total- for francophiles, mamas, and design aficionados (and yes, you may enter them all). Why three you ask? It's my lucky number, plus I want to offer a little something for everyone who reads this blog. I figure the best way to kick things off is with one dedicated to francophiles-after all, that is how my blog got it's start. My love language is gift giving-nothing makes me happier than bestowing someone I care about with a thoughtful present. And I care about you all, my dear readers…so let the giving begin! Special thanks to the lovely artists + friends featured here who have made this possible with their generosity and support. I encourage you to explore their respective sites and discover all of their talents and offerings. Bonne chance!
ONE LUCKY WINNER WILL RECEIVE
#1   two signed + personalized copies of The Paris Journal by evan and nichole robertson of obvious state
#2   one paris map print in silver by famille summerbelle
#3   a bonjour print in black by ellie bradley of xavier + me
#4   one hand-lettered merci stamp +  luxe correspondence set by besotted brand
Entries must be posted by 11:59 PM on Tuesday, December 2nd to qualify. The winner will be drawn randomly (via Gleam + random.org) and announced here on December 3rd. $260 USD total value. No geographical limitations!
CLICK THROUGH TO ENTER!