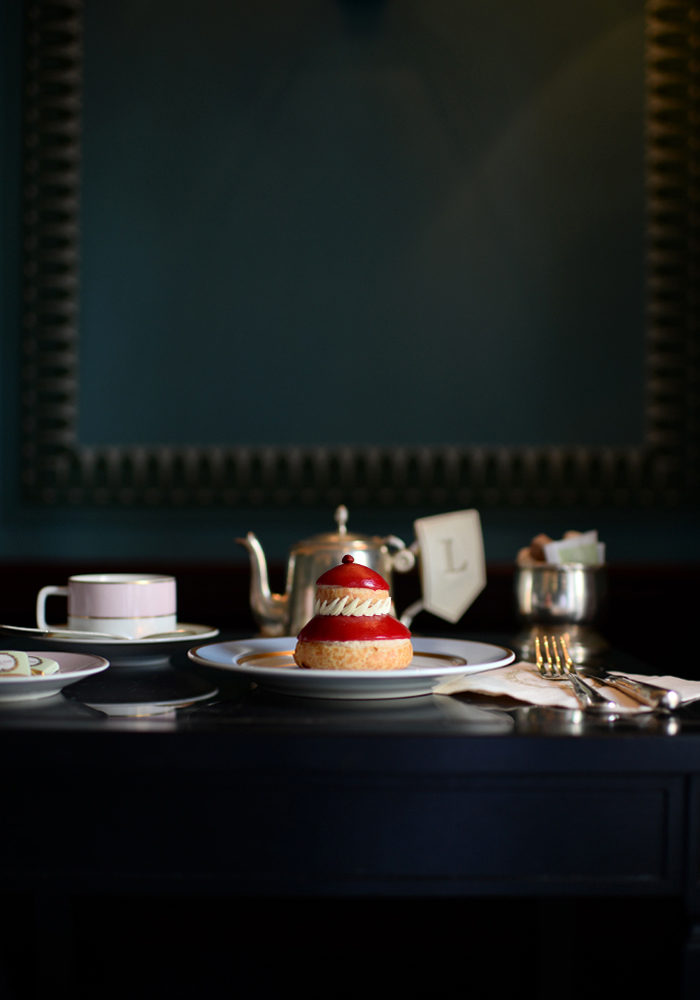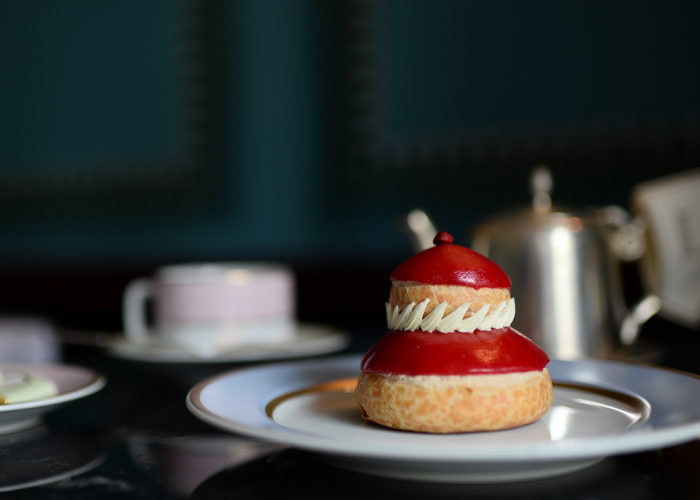 During my last trip to Paris, I was invited to experience the first creations of Claire Heitzler, the new creative director of Ladurée. It was an incredible honor – those that know me best understand how exciting it was for me (I'm still pinching myself). But enough about me – let's talk about these stunningly beautiful and delicious pastries. The first (shown above) is the religieuse fraise verveine, a choux pastry filled with light verbena mousse, garnished with fresh strawberries and strawberry jam. It was delicate, refreshing, and unfortunately…seasonal. However, that is one of many reasons their creations are so special, as they are only available for a limited time, and are occasionally re-released. Wherever you are in the world, if you have a Ladurée in your city (lucky you), you can experience Claire's current creations for yourself.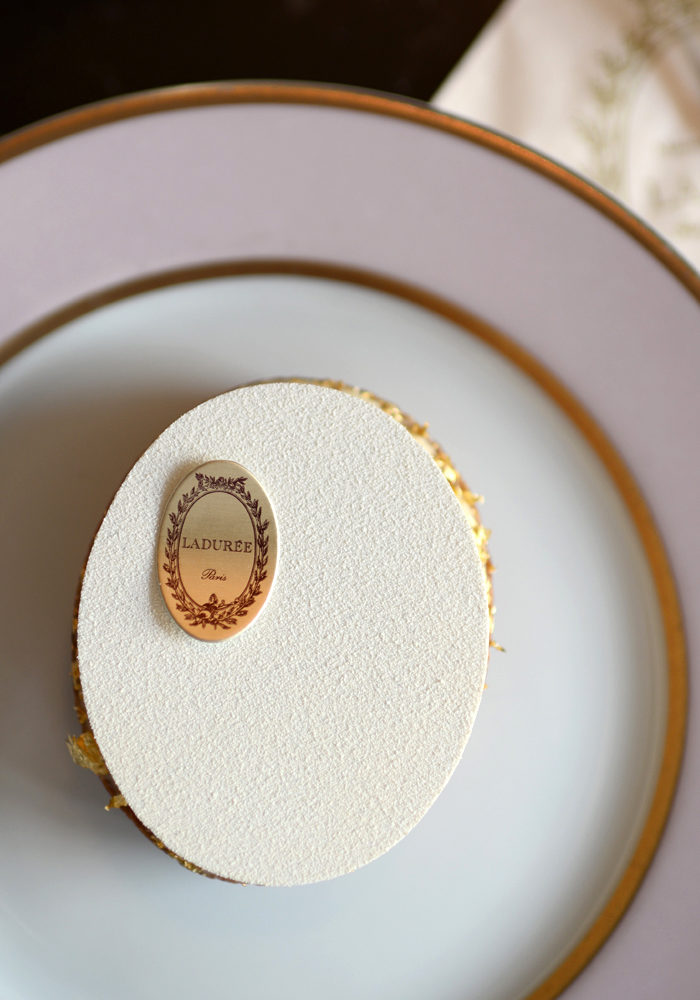 This gorgeous treat is known as la tarte nuance, and yes..that is edible gold leaf. It was a dreamy pâte sucrée with praline and fleur de sel, vanilla biscuit soaked in dark rum, topped with a sheet of white chocolate. It just might have been my favorite, but then again, the religieuse is a classic of the maison, and you can't go wrong with any adaptation of it (the pistache is shown below). A little bit of history about Claire: she hails from a small village in Alsace (a fact that I'm particularly fascinated by, given my family history), and was influenced from a young age living close to a pastry shop with a celebrated chef. She went on to be pastry chef at Alain Ducasse's Beige in Tokyo, where she was inspired by the serenity of the environment and emphasis on fresh fruit. She was most recently the pastry chef at Lasserre restaurant in Paris. Claire is aiming to gradually reinterpret the classics, making them fruitier, lighter, and a bit less sweet.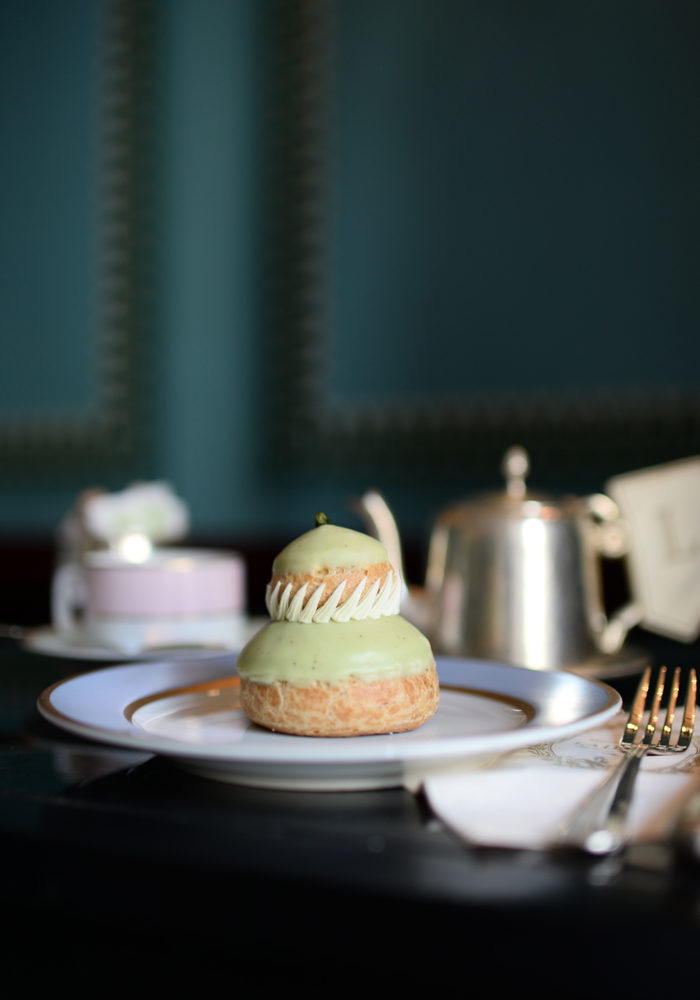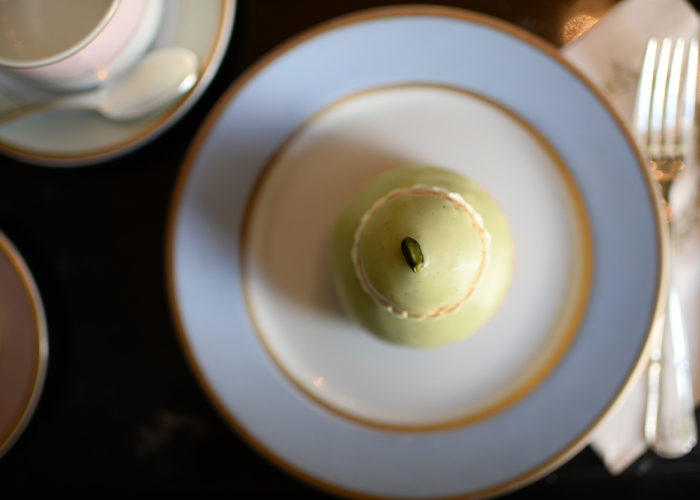 All of these treats pair beautifully with their selection of teas of course, and I highly recommend taking a long pause at one of their many beautiful tearooms. The Rue Royale location is truly special, as it is the site of the original maison, founded in 1862. I'll have to write a separate post showcasing the beauty of the restaurant, as well as the adjacent boutique. I'm so grateful to have had this experience courtesy of Ladurée, it truly was a magical morning, pour moi.
Ladurée | 16 rue Royale 75008 Paris