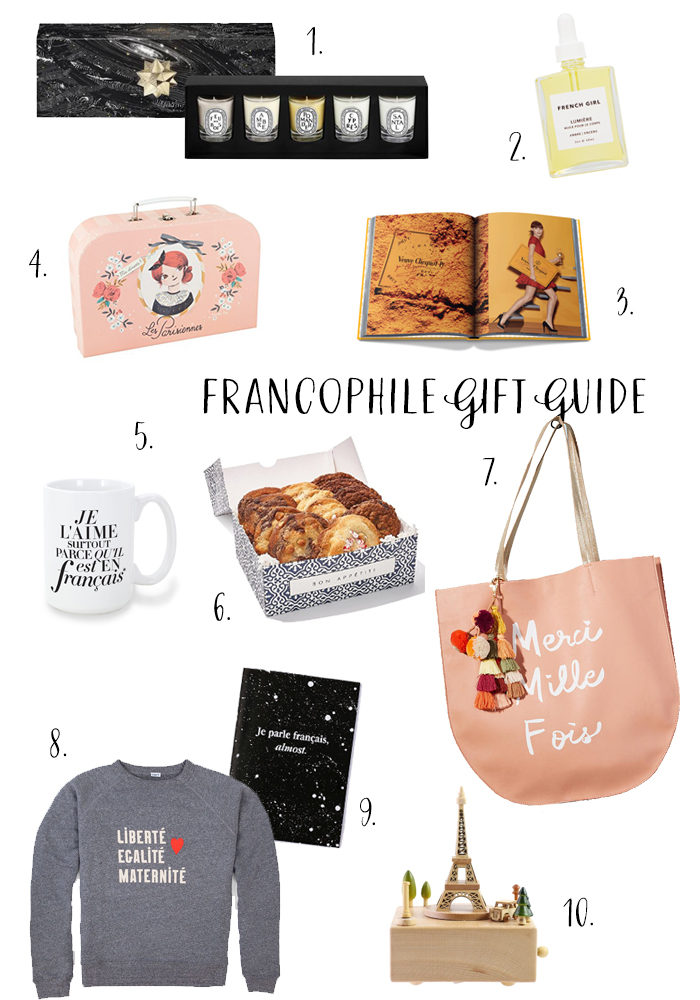 My passion for all things French is well known – it was the inspiration for starting this blog, and fueled my most recent venture, @thefrancophiles. I always seek out French brands and French-inspired products as gifts, and enjoy curating Francophile-focused gift guides each holiday season. I either own these items or covet them myself (ahem Santa), so you can feel confident about any and all of them. It's difficult for me to narrow the selection, but you can always peek at my personal Pinterest, as well as the Francophiles Pinterest boards, for more inspiration. Happy shopping mes amis!
1.   you simply can't go wrong with this stunning mini candle collection by Diptyque.
2.   inspired by French body care + handcrafted in Seattle, French Girl Organics Lumière body oil is a luxe treat.
3.   while there are numerous books I could include, this one about the history + brand of Veuve Clicquot is a beauty.
4.   for la petite Parisienne…this chic tea set by Moulin Roty is sure to delight.
5.   this Obvious State mug is perfect for the intellectual Francophile (or coffee lover), "mostly because it's in French".
6.   one of Oprah's favorite things this year, the holiday trio cookie box by Maman is a perfect hostess gift!
7.   whomever is at the receiving end of this French-scripted tassel tote will be thanking you a million times over.
8.   this chic + comfy sweatshirt by Clare V. is a take on the French national motto and benefits Every Mother Counts.
9.   a fun gift for any aspiring Francophone, this French Words Boutique notebook is a personal favorite.
10. for the little Francophiles or Paris-obsessed friend, this wooden Eiffel music box will surely be treasured.