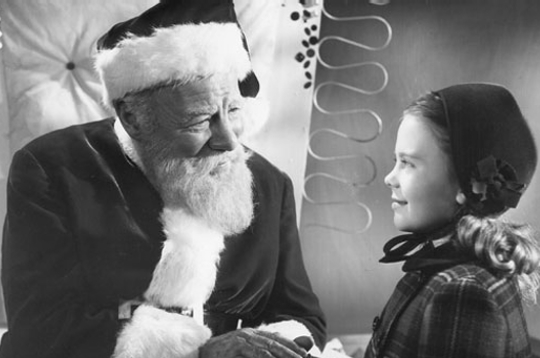 In the event that Santa (aka mr. fleurishing, or anyone else who has the urge) needs gift ideas for moi, voila. Keep in mind this list runs the gamut from affordable to dreaming. Those who know me well won't be surprised…I've always had champagne taste. Not always a champagne budget, ha! I must mention the image, from Miracle on 34th Street…it is one of my all-time favorite movies. I happen to share the name of the little girl, which I only recently learned!
*Western Electric 302 vintage phone in ivory (affordable option-reproduction)
*Aigle wellies…the Parcours Lady in brown to be exact
*Echo touchscreen gloves (which seem to be soldout everywhere, sigh)
*Lace necklace by White Owl on etsy
*An old-fashioned  bicycle with a basket, like this one!
*Framed quotes by Natural Curiosities
*A terrarium from Terrain, or a gift certificate so I can take the workshop & make my own ;)