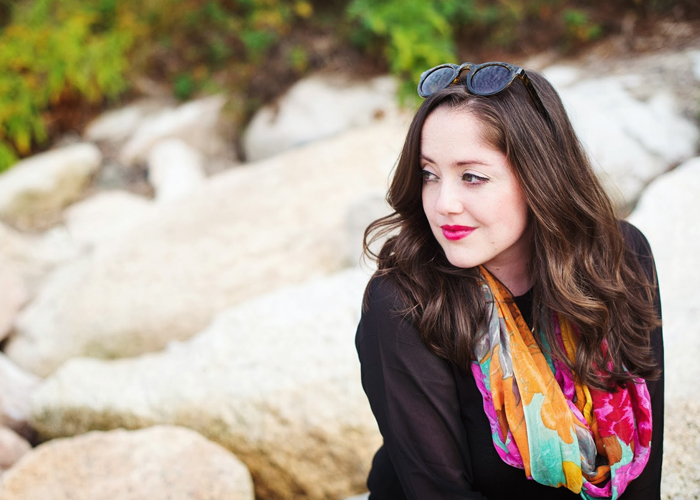 Kayla is one of those people that you feel as if you've known forever, she is so darn charming and sweet! We "met" via her blog, Exquisite Banana, which is full of beautiful sentiments, fun personal tidbits, and inspiring finds covering many topics. We have become "virtual besties", and sometimes I get freaked out by how much we have in common! Hopefully next time I'm in NYC we will be able to finally meet in person. Check out her blog, and find her on twitter too! 
If not yourself, who would you be?
Myself. Always. I believe it is important to love one's self, wholly, truly and authentically. There's only one of you in this world…how special that is!
What is your present state of mind?
Cheerful, relaxed, contemplative.
Your favourite colour and flower.
I do not discriminate on this one. I love the entire glorious spectrum of the rainbow and every single stem in earth's soil. But, if I have to choose, my favorite color is yellow and my favorite flower is the peony. 
Your idea of happiness.
Good people, good conversation, good food. Lots and lots of laughter. Since I tend towards verbosity, let's throw in birds singing, the first days of a new season, round Buddha bellies on young children, creative pursuits, and getting lost in a fat book.
Your favourite food & drink.
Freshly baked bread with sweet créme butter, all cheese, good wine, chocolate, seasonal fruit, messy tacos, homestyle mac 'n cheese, thanksgiving dinner…I'm a glutton and proud of it!
Where would you like to live?
I am happy where I am (the NYC metro area) but am really attracted to the historic cities of the south (Charleston, Savannah), certain areas of California (San Fransisco, San Diego), and the glamorous allure of Europe (anywhere!). NYC feels like home, though. Oh, and of course New England, where I was born and raised (Boston/Cape Cod).
Your favourite poet.
e. e. cummings. I own his complete works and it is one of my most treasured possessions.
Your favourite occupation.
I love what I do (teach). I hope to continue to teach at the early childhood level and eventually, supplement my income through writing (children's books). If I had many lives, I would also love to own my own flower shop/bookstore/outdoor café/bakery. Or, travel the world and get paid to do it (Food critic? Travel writer? Photographer?). The list goes on and on…
What gift from nature would you like to have?
Flight. From butterflies to wonder woman to hummingbirds to honey bees, I envy all living things blessed with the ability to soar (literally).
Your favourite motto.
I keep a whole book of beloved words & quotations and consult it regularly for inspiration. The latest addition:
"Wake up at dawn with a winged heart and give thanks for another day of living."–Kahlil Gibran.
Two additional favorites:
"A light heart lives longest." –Irish Proverb
"Let the beauty you love be what you do. There are a thousand ways to kneel and kiss the earth." -Rumi