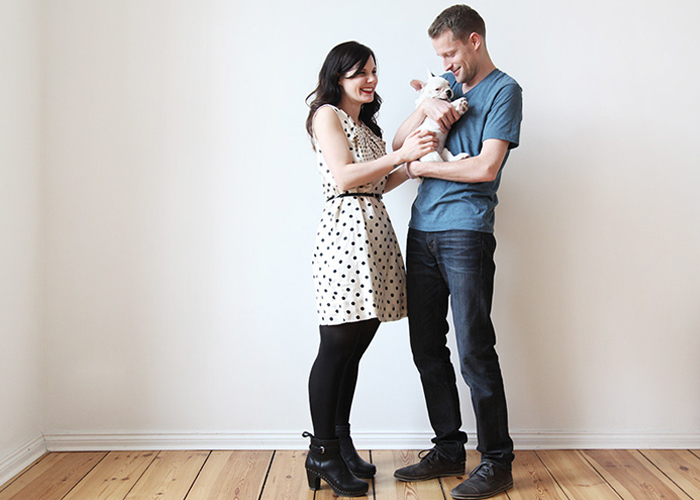 I bonded with Ashley Ludaescher via geography…she lives in a region very dear to my heart. In addition to being surrounded by beauty, she captures it with her lens as a professional photographer. She blogs about her inspirations, life and love, and will be wed to her sweetheart later this year…they are a lovely couple! A fellow dreamer and romantic, I appreciate her outlook on life and relate to almost everything she writes. Thank you for sharing Ashley…danke! 
Your idea of happiness.
Being surrounded by the people I love. The place I would say I am happiest is my family's lakeside cottage in Cape Cod where we visit every summer and where I am getting married in September…one of my favorite places on earth.
Your favourite colour and flower.
If you asked my friends, they would probably tell you my favorite color is black. As far as clothing is concerned that would be correct, although I am really making an effort to add some color into my wardrobe (and would say it has been quite successful thus far). The colors I love definitely depend on my mood and the season. Spring and summer always have me turning to bright happy colors. My favorite flowers are peonies and ranunculus. 
Your favourite food & drink.
In Germany, definitely sauerkraut and schupfnudeln (potato dumplings) and glühwein (mulled wine served at Christmas time). Moving abroad makes me miss all the food I once took for granted…good sushi, Mexican food, In and Out, pho….the list goes on…I love food in a big big way.
Your biggest flaw.
Impatience
Your idea of misery.
Losing someone I love.
Your favourite qualities in friends.
Loyalty, humor, honesty.
Your chief characteristic.
Always have been and hopefully will always be, a dreamer. 
Where would you like to live?
I am a bit of a vagabond and I hope someday to find a place where I really feel at home…after stints living in San Francisco, Santa Barbara, Paris, Lyon, and now on the French/German border I am still yet to find it. Even though I love all the places I have called home, I am still on the hunt. The next move, Berlin…maybe we'll find it there.
Your favourite names.
Veda, Anouk, Claude (my grandfather's name), Brooks (my brother, father, and paternal grandfather's name)-surely I will someday find some obscure names for our children after being named Ashley. There were 5 Ashley's in my grade growing up and 3 of those were Ashley H. My parents truly thought they were original.
Your favourite hero (or heroine) in real-life.
My mama.
**the proust q & a is a regular feature..check out the archives here**