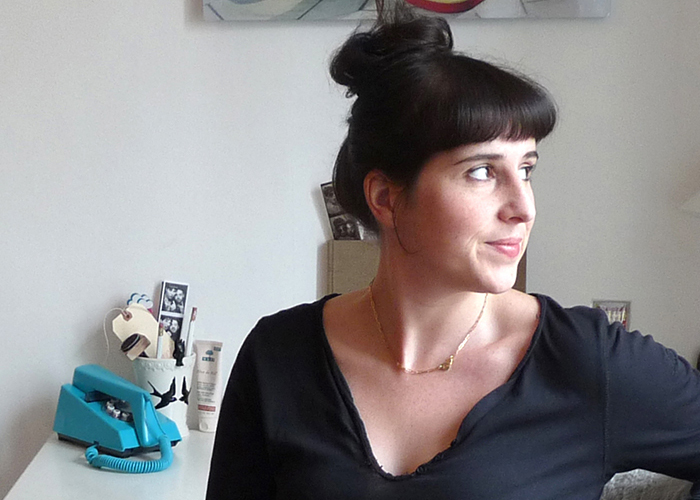 I have a new blog (and blogger) crush…it is a beautiful happy place, filled with great design, fun posts, and Paris! Sarah Livescault is the art director of Paper & Cup Design operations abroad, and has been writing blog posts from Paris, along with Minhee Cho who founded the company. The stationary and design company is based in New York and has recently launched a new website! Their products are fabulous, and the blog really is dreamy for design buffs and francophiles alike. With the posts written in both English and French, I'm finding it a great way to practice. Sarah infuses the blog with bits of her personal life (a newlywed!) and anecdotes of French living…I just can't get enough. Merci encore Sarah!
What is your present state of mind?
It changes a lot depending on what I'm surrounded by (music, movies, weather, people…). It can be annoying, especially for my husband.
Your favourite colour and flower.
That's a tricky one…I love the combination of black and white and I love love love peonies and orchids.
Your idea of happiness.
To love and to be loved.
Your idea of misery.
A lonely life with no family or friends.
Your favourite food & drink.
My mom's food with a nice glass of wine!
Your biggest flaw.
 I'm very stubborn! 
Your favourite occupation.
Going to the movies with my hubby.
Your favourite qualities in friends.
Trust and honesty in good times and bad times.
Your favourite hero (or heroine) in fiction.
Peter Pan & Alice (in Wonderland)
Where would you like to live?
If I could, I would go back to New York…but can't complain about Paris! I could reverse Gerturde Stein's quotation: "France is my country, but New York is my hometown". 
**the proust q & a is a regular feature..check out the archives here**