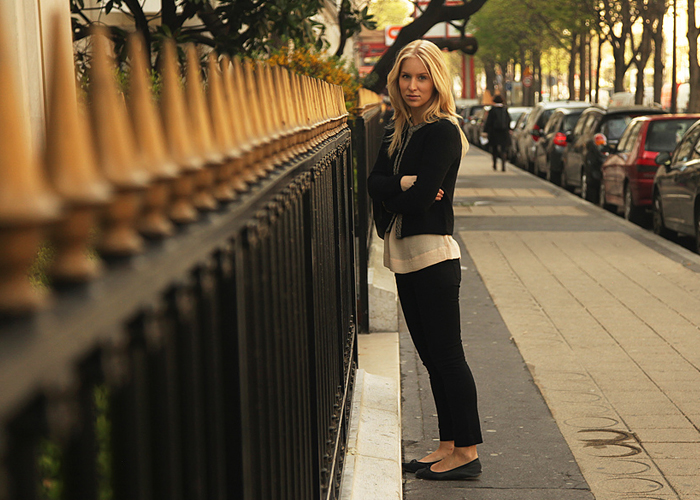 Discovering Carin Olsson's blog recently was a happy day for me. Paris in Four Months is filled with francophile delights, from the mundane to the magnificent. Her gorgeous photography first caught my eye…the "lèche vitrine" (window shopping) alone is such a treat. A Stockholm native, Carin will soon to be calling Paris home once again, and I'm excited to experience more through her lens. Be sure to follow her on Instagram for a daily dose of eye candy!
If not yourself, who would you be?
I would love to be Garance Doré or Jamie Beck for a couple of days, simply because I would love to learn so much more about what I love to do; photography (with a little bit of fashion).
What is your present state of mind?
A little bit low…the snow and the extreme cold have just arrived in Stockholm (where I'm currently located) and I'm just counting down the days until I can board the plane back to Paris.
Your favourite colour and flower.
I'm a sucker for anything in the tones of light powdery pink or beige but I also love to have bright orange, yellow and pink colours around me – those shades really make me happy. My favourite flowers are peonies. And hydrangeas.
Your idea of happiness.
Being around the people that I love (including our family pug Nixon) in a place where I feel stimulated, doing what I love to do. I would also prefer if the sun would shine as much as possible.
Your idea of misery.
Being without the people that I love, horrible diseases, cold weather and darkness.
Your favourite occupation.
Strolling around the streets of Paris, with the camera in my hand.
Where would you like to live?
Some place where I wouldn't get bored… so preferably in a bigger city. I also think I could see myself living in different places during different times of the year. I can't stand the winter and the cold and would love to be able to escape it.
Your favourite hero (or heroine) in fiction.
Indiana Jones, if he could be called a "hero". I would love to go on all those adventures around the world, swing through the jungle, looking for treasures and historical items. Otherwise I'll pick Batman. 
Your favourite hero (or heroine) in real-life.
My mom. Just because she's amazing in every possible way. She's my role model and the person that I look up to. In my eyes she can do anything. 
Your favourite motto.
Do what you love.
 **the proust q & a is a regular feature..check out the archives here**