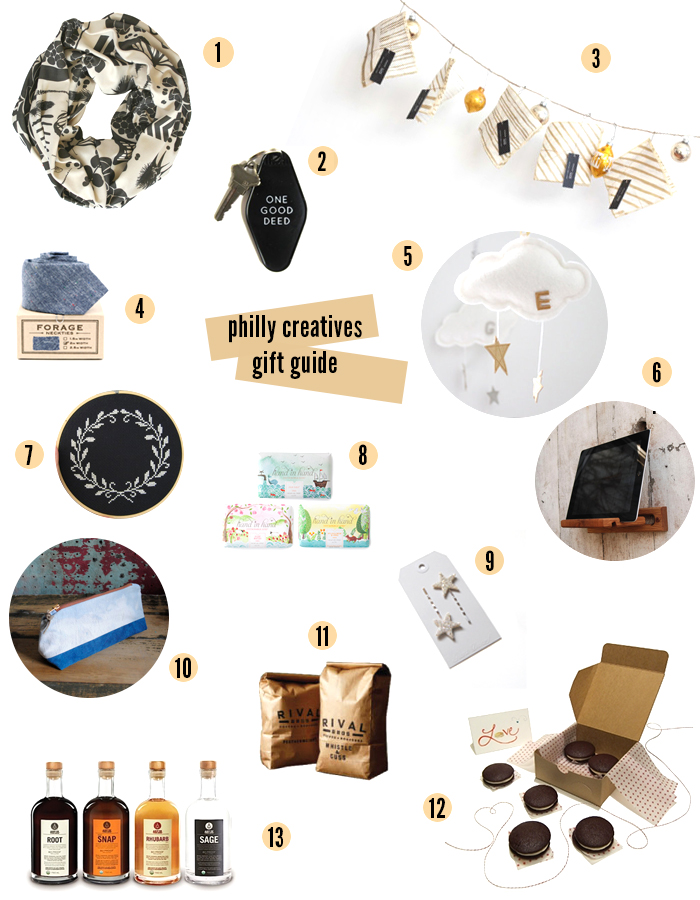 In honor of small business saturday, a few of my favorite gifts from my neighborhood, Philadelphia! There is so much talent in this city I could make numerous gift guides, but I've narrowed it down to a lucky thirteen. Happy shopping!
1…ASH + ANCHOR sovay charcoal single loop infinity scarf // use code PARTYROCKIN20 for 20% off through 12/2
2…THREE POTATO FOUR good life key tags // use code THANKSGIVING for free domestic shipping through 12/3
3…MELONGINGS metallic bronze cocktail napkins set of 4 // use code GRATEFUL20 for 20% off through 12/3
4…FORAGE HABERDASHERY union denim necktie // use code THANKS for 30% off through 12/2
5…BABY JIVES personalized star cloud ornament // use code BABYJIVESHOLIDAY for $10 off orders of $75 or more
6…PEG + AWL reclaimed oak iPad easel // use code SMALLBUSINESS for 20% off through 12/2
7…CHEZ SUCRE CHEZ cross-stitch black and white wreath // use code HOLIDAY2013 through 12/2
8…HAND IN HAND SOAP buy a bar, give a bar, various scents // use code CYBERMONDAY valid 12/1 – 12/2
9…GIANT DWARF twinkle sparkler pair // use code SPARKLE for 20% off through 12/2
10..SQUID WHALE DESIGNS hand-dyed canvas sea + sky zip purse //
11..RIVAL BROS. COFFEE small batch roasted coffee // use code BLACKCOFFEE through 12/2
12..ART IN THE AGE craft spirits // spirits not sold in store but support other local talent with numerous deals in store!
13..COCO LOVE HOMEMADE red whoopies "love"gift // use code SHIP1209 for 10% off through 12/1