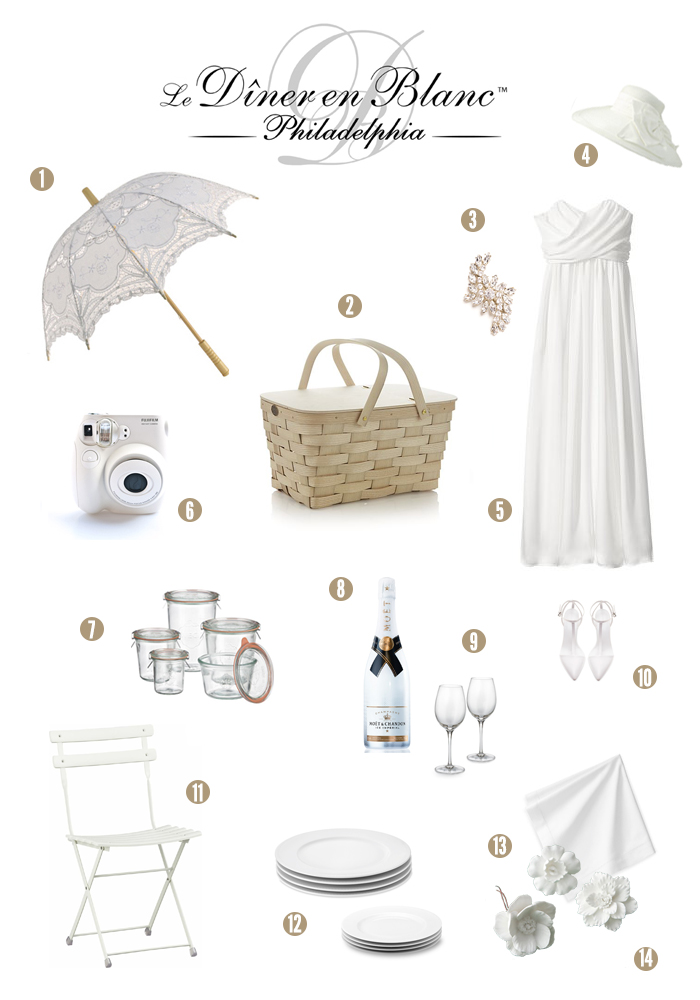 The countdown to Dîner En Blanc Philadelphia has begun…less than 3 weeks to go! If you're planning to attend the magical affair, I hope you will enjoy this little bit of inspiration. There are so many details, rules and logistics, it can be overwhelming! First and foremost, be sure you are properly registered-you most likely already received a letter with an overview of guidelines + instructions. I won't get into the nitty gritty of it all, but want to share some of the items that I've had my eye on. Also, I recently discovered the Dîner en Blanc documentary which takes an intimate look at the event in Paris, revealing the behind the scenes planning as well as the actual event! If you haven't seen it, I highly recommend a viewing…it reminded me just how magical the evening is, and got me even more excited for 2014. I hope to see you there!
1…   fancy details can really set you apart…you're sure to get noticed with a lace parasol!
2…   while it doesn't have to be white, I love this one from crate + barrel (shown), OR the picnic for two basket kit
3…   a bit of sparkle never hurts, and can dress up a more casual outfit…statement brooch + sash buckle
4…   many attendees wear hats, or fascinators…I love mixing it up each year!
5…   a flowy white dress is my outfit of choice, but there are so many options for both men + women (too many to list).
6…   be sure to capture the magic…we all have our phones, but consider film with this fun fujifilm instax camera!
7…   should you choose to bring your own dinner (rather than catering), these weck jars will transport your food elegantly.
8…   don't forget your wine + champagne!
9…   more importantly, don't forget your wine glasses…because, well, drinking out of the bottle is not so classy.
10… first and foremost, go for comfortable shoes (i.e. low heels, wedges) so you can dance the night away!
11…  there are many chairs to choose from…shown is the bistro chair by terrain…more options on the pinterest page!
12…  porcelain dinner + salad plates by apilco are simple and classic.
13…  beautiful hemstitched linen napkins look beautiful on any table.
14…  these porcelain flowers make lovely napkin ties or table decor…you can see how I used them here!
items not shown (table, tablecloth, candles, flowers, etc.) can be found here