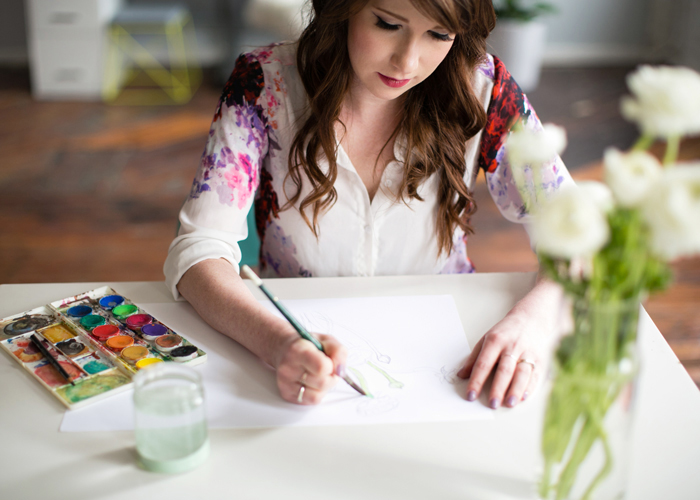 Meet Sarah Stone – graphic designer, artist, fellow redhead and hard-working mama (we've bonded over the last two especially). We first met online thanks to mutual friends and a love for all things design. She has a clean and modern aesthetic, and a knack for making her clients' dreams a reality! Her portfolio is varied and includes logo/brand identity, social media campaigns, packaging design, and more. Most recently she has started offering workshops at her studio, and has an upcoming modern calligraphy workshop + brunch with Christie Jones of bedsidesign (click here for more information). Be sure to visit her blog for design inspiration and photos of her little redheaded lady Eva…so sweet.
explain your business and the idea behind it.
I own a boutique design studio called cleanline studio. I typically work with small-scale, mostly female creative clients in design related fields like interior design, blogging, photography, etc. I love really getting to know my clients before the process starts to ensure that result is even better than their original vision. I also blog, create stationery, and now host creative workshops in my studio!
how did you get into the business of making things?
After I left my advertising agency job, I really wanted to diversify the way I make money and create some design work that isn't dictated by the interests of a specific client. That's why I started my stationery shop. I'm a pretty artsy crafty gal in general; I like to sew, paint, make jewelry, etc. and it's possible that I'll stock such items in my shop in the future.
at what point did you decide to make your passion a business, and what inspired you?
I left my ad agency job when my daughter was almost two, because I was sick of the brutal commute and lifestyle of the advertising world. Ironically, I devote more hours to work now than when I had a salaried job, but my time is spent on projects I truly enjoy. It's better for me, and the flexibility of being self-employed is better for my family.
as you've developed your business/brand, what has surprised you most?
The amount of time I spend sending emails, writing proposals, meeting new clients, and networking really shocked me in the first year of owning my own business. In the ad agency world, I almost never interacted with clients. I'd go to work, sit down at my desk, and do JUST design work for 8+ hours a day. Now, I maybe spend half of my day designing. I actually like working with clients, so this isn't necessarily a bad thing, just something to be aware of when setting your rates.
when did you know you'd "made it" as a creative entrepreneur?
I'm not sure I've had that specific moment just yet, lol. Honestly, being a creative entrepreneur is a rocky road. On slow weeks I question if this is the right business for myself and my family, then other weeks I'm on top of the world because of an amazing opportunity that's presented itself thanks to my business or blog.
how has social media helped to further your business?
Tremendously! I think it can be pretty tricky to break into an online client market and social media is a big help with that. I've found social media to be a great way to expand my blog and website's reach, and meet creative entrepreneurs whom I've been able to collaborate with since starting my business.
what brought you to philadelphia, and how does the city inform your work?
I'm originally from about an hour north of Philadelphia. I went to SCAD in Savannah, Georgia for college, and it felt like a natural progression to be in Philadelphia after graduation. I am constantly inspired and impressed by the art and design community in Philadelphia. From co-working spaces, to art galleries, to fantastic blogs, to incredible designers of all shapes and sizes, Philadelphia has got it going on. In the eight years that I've lived in the city, I've seen such growth in the independent design community and I feel that I really feed off of that momentum.
where do you work from? tell us about your office and/or studio.
Since the beginning of the year, I made the commitment to myself to get a studio space outside of the home. In February, I moved into an awesome, light-filled space in Fishtown. It's large and quiet with a cute lounging area, whitewashed brick walls, high ceilings, and open floor plan that make it ideal for blog and product photography. I'm also planning to start using the space for occasional creative classes in the fall.
what does a typical work day look like for you?
It actually varies quite a bit throughout the week! Mondays and Fridays I'm in my studio all day. I try to get in by 9AM, and I stay til about 6:30. During that time, I'm blogging, designing, emailing, sipping coffee, and skyping with clients. On Tuesdays and Thursdays, my daughter is in preschool until noon, so I'm only able to put in half days of work. I am a total list-maker which enables me to stay organized and on schedule when I have limited time. On those days when I don't have a full 8 hours in the studio, I'm often on my laptop in the evenings after Eva's in bed. It's a little crazy, but I make it work!
what inspires you?
My garden, photography, vintage botanicals, fabric, pinterest, street art, fine art, and sculpture (to name just a few). I find inspiration comes when you least expect it. Sometimes it comes from the most predictable place like a design magazine, and sometimes it comes from a tiny flamingo painted on a fire hydrant near my house. I just never know until it happens!
please check out Sarah elsewhere… facebook / twitter / instagram / pinterest / bloglovin
**philly creatives is a regular feature..read the archives here**