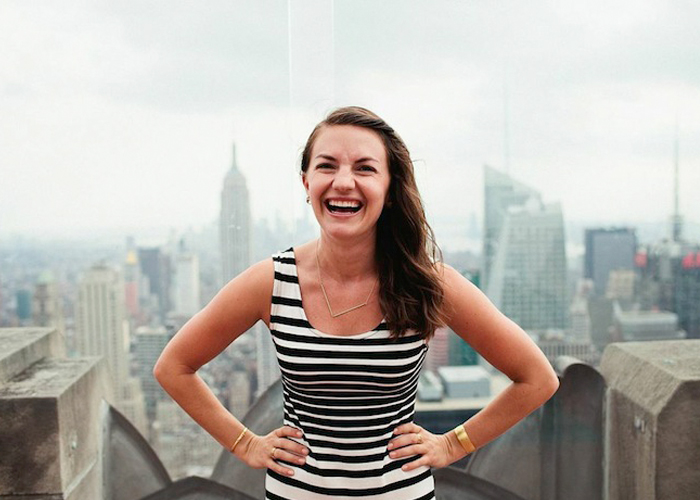 I've been eager to revive the Proust Q + A after a two-year hiatus, and Christine Amorose of C'est Christine is the perfect person to kick things off! While her blog name offers a hint of her Francophilia, don't let that fool you – she is a seasoned world traveler. Thus far, she has managed to celebrate every birthday in her twenties in a new country!  A California girl at heart, she lives + works (quite happily) in NYC – Brooklyn to be exact. When she isn't managing brand partnerships for Vimeo, she's practicing or teaching yoga, exploring New York City, or planning her next getaway. In addition to instigating severe wanderlust, Christine has a charming way with words (as her header so aptly states), and her insightful and mature outlook on life inspire me. Her blog is one that I make time for on a regular basis, and highly recommend you do, too. A huge MERCI to Christine (and her energetic, beautiful self) for breathing new life into this series!
Your favourite virtue.
Kindness. It's such a little thing that can make such a big difference. One of my favorite concepts is that kindness is a muscle, not a fixed trait: it's something that can get stronger the more than you practice it!
Your idea of happiness.
A good book, a good coffee and a sunny day. I always think of A Tree Grows in Brooklyn when I think about happiness: "People always think that happiness is a faraway thing," thought Francie, "something complicated and hard to get. Yet, what little things can make it up; a place of shelter when it rains – a cup of strong hot coffee when you're blue; for a man, a cigarette for contentment; a book to read when you're alone – just to be with someone you love. Those things make happiness."
Your favourite colour and flower.
Bold turquoise, and tulips in any color.
What is your greatest extravagance?
Once-in-a-lifetime travel experiences. I can never resist something grand that I can't do anywhere else in the world, like a hot air balloon ride at sunrise over the otherworldly landscape of Cappadocia, Turkey or wakeboarding next to and rockclimbing on the ethereal limestone cliffs of Halong Bay in Vietnam or paragliding over Neuschwanstein Caslte in the Bavarian Alps.
Your biggest flaw.
Stressing out over things I can't control, and letting that stress negatively affect the people around me.
Where would you like to live?
In a sunny house on the beach, or a restored brownstone in Brooklyn.
What is it that you most dislike?
Hypocrites.
How would you like to die?
Quickly and painlessly with no regrets, before I get too old to be a burden.
Your favourite qualities in friends.
A sense of humor, a love of adventure and, most importantly, a commitment to the act of friendship.
Your favourite motto.
Do the best you can, and then to hell with it.
christine's links… instagram | twitter | pinterest | facebook
**the proust q + a is a regular feature…check out the archives here**