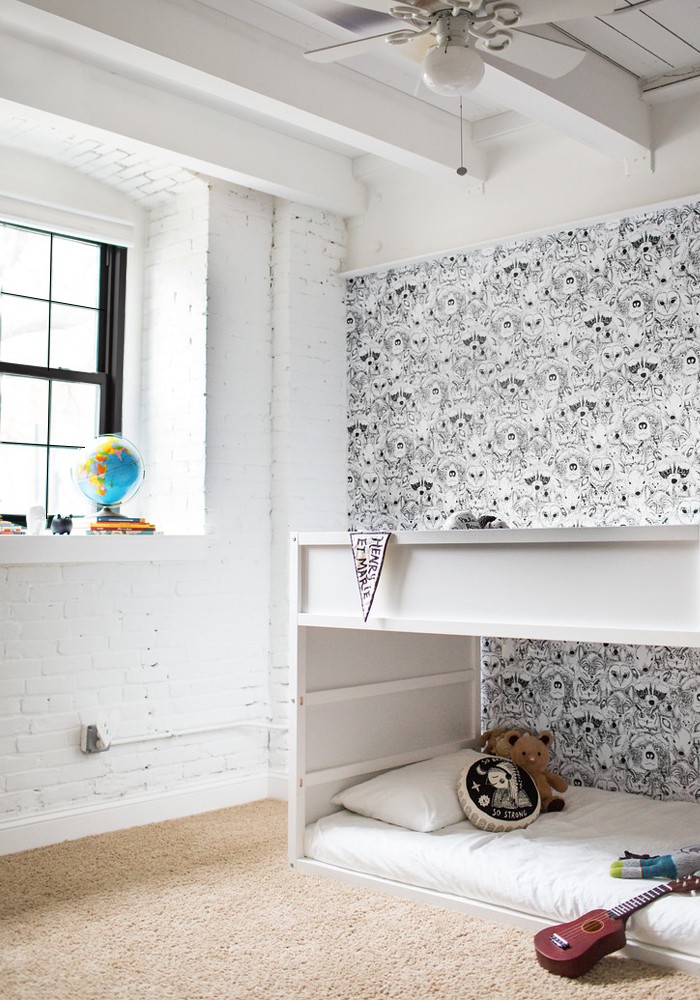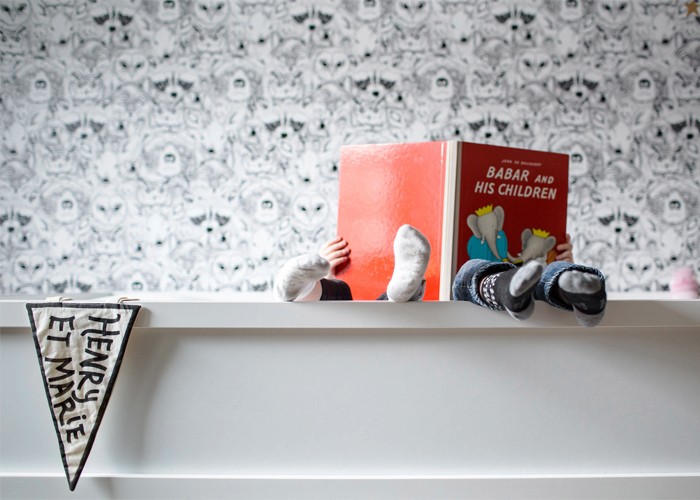 The wait is over – I can finally reveal the kids new room! It's been a long time since I've shared Henry + Marie's bedroom – since their nursery, to be exact. When we sold our home, we knew we would be creating a "big kid" room for them in our new space. Our industrial loft has greatly inspired my decor decisions, and I've enjoyed designing a more modern + minimal space. With awesome bones (hello exposed brick + beams) and beautiful light, there wasn't too much to be done. I knew I wanted to have an accent wall behind their bunk beds and immediately started searching for wallpaper. However, we needed something renter-friendly, and that's when I discovered Chasing Paper. They have an amazing line of high quality, removable wallpaper + wall decor. I quickly became smitten with the "wild" print by designer Sarah Watson and knew it was the one. Most importantly, the kids adore it – they're working on names for each animal!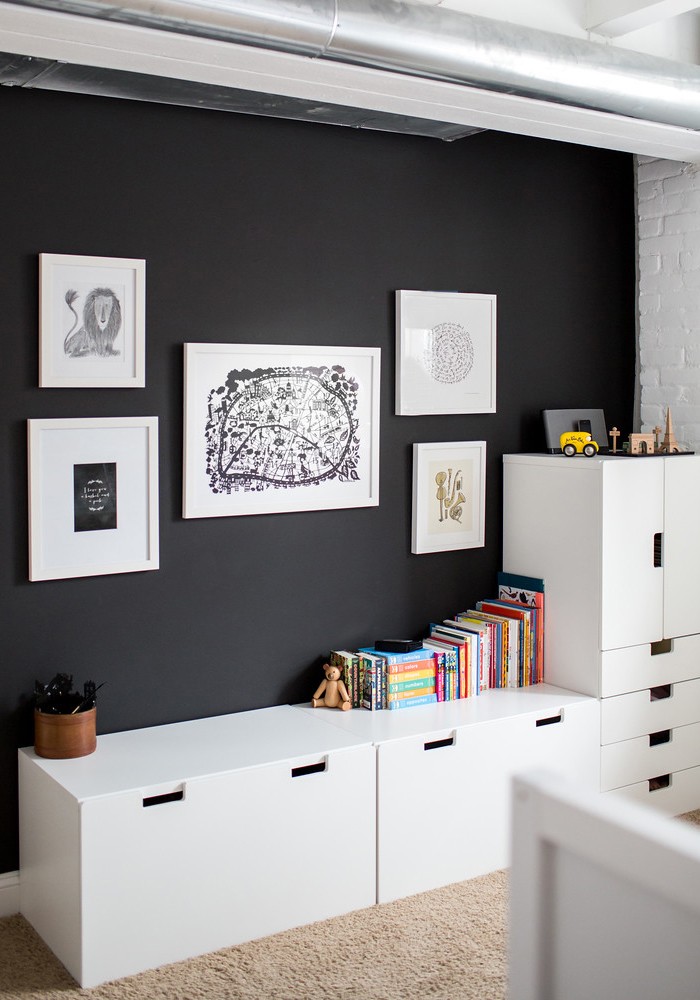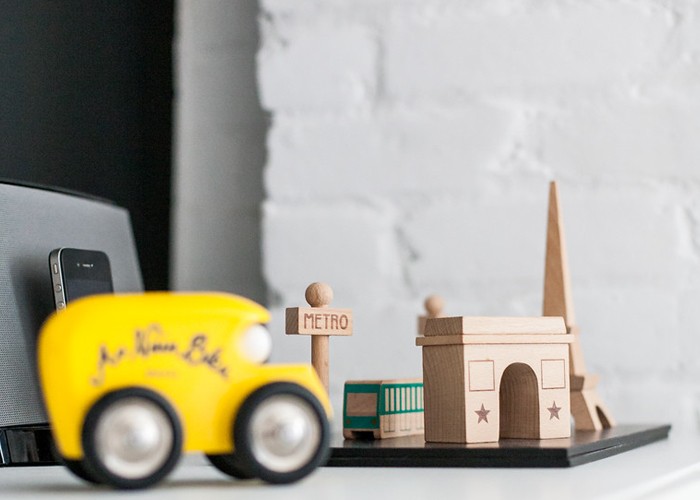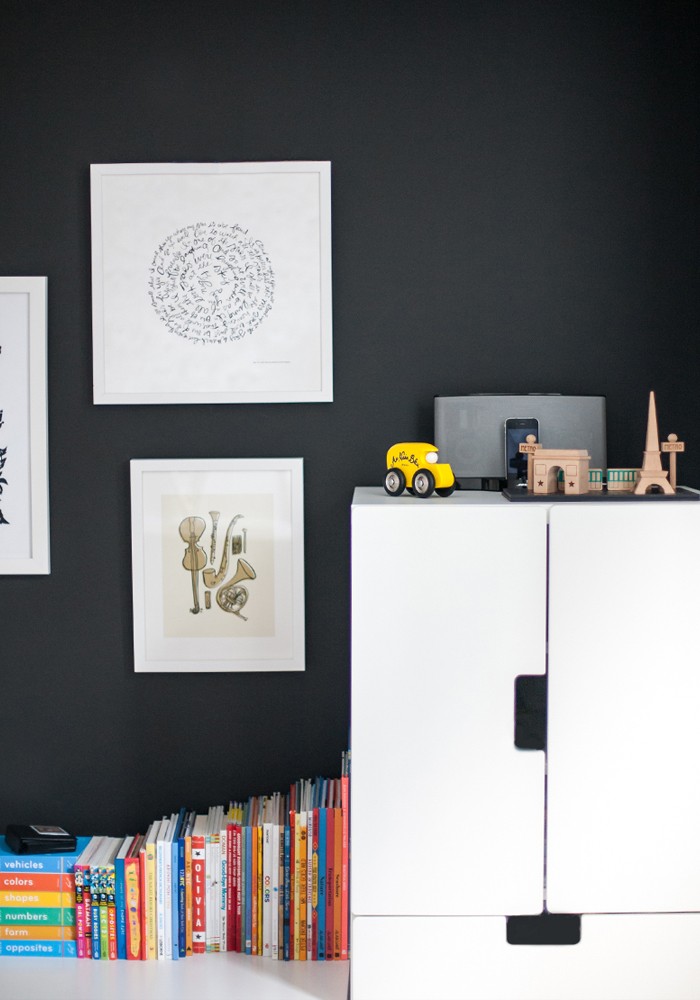 Ok, ok…so I technically did two accent walls. I wanted high contrast, and knew the black wall would look great with the white storage units and artwork. Since we're living an urban lifestyle now, space is more limited, and their room functions as a playroom as well. The large storage bins hold their toys + craft supplies, while the cabinet houses shoes, pajamas, socks, you get the picture. We may eventually add a shelf below their clothing for their shoes. With so many books, they are scattered throughout the room (and our entire place for that matter). You can never have too many books (says the daughter of a librarian). The initial hooks (from here, I painted them) are a great landing spot for their backpacks.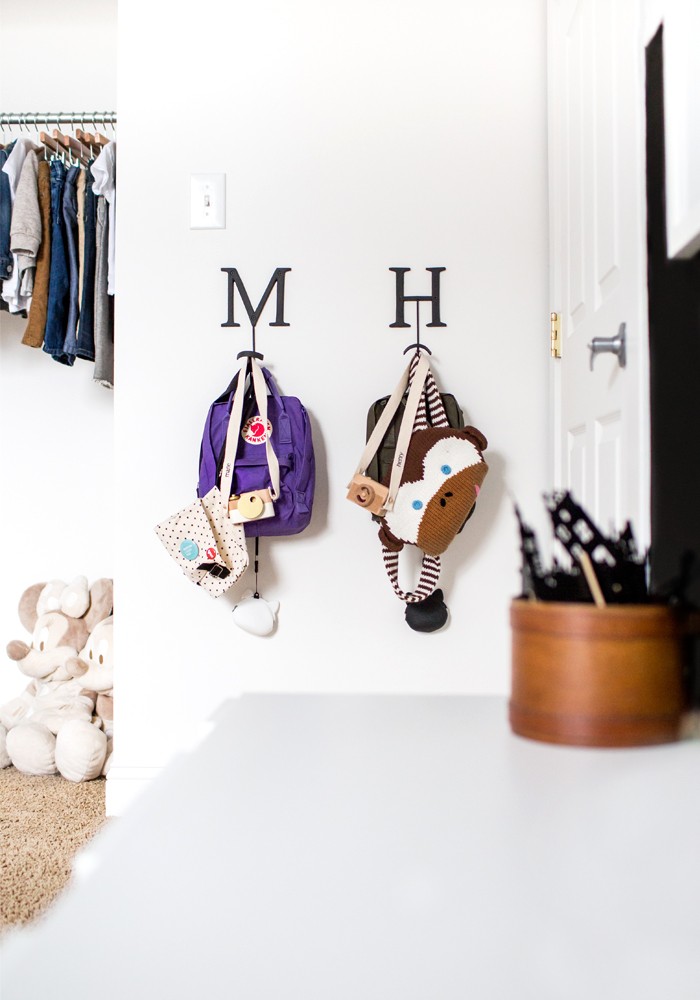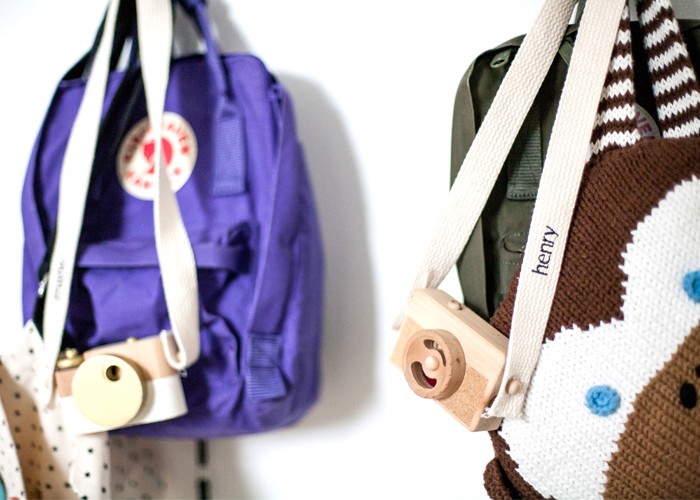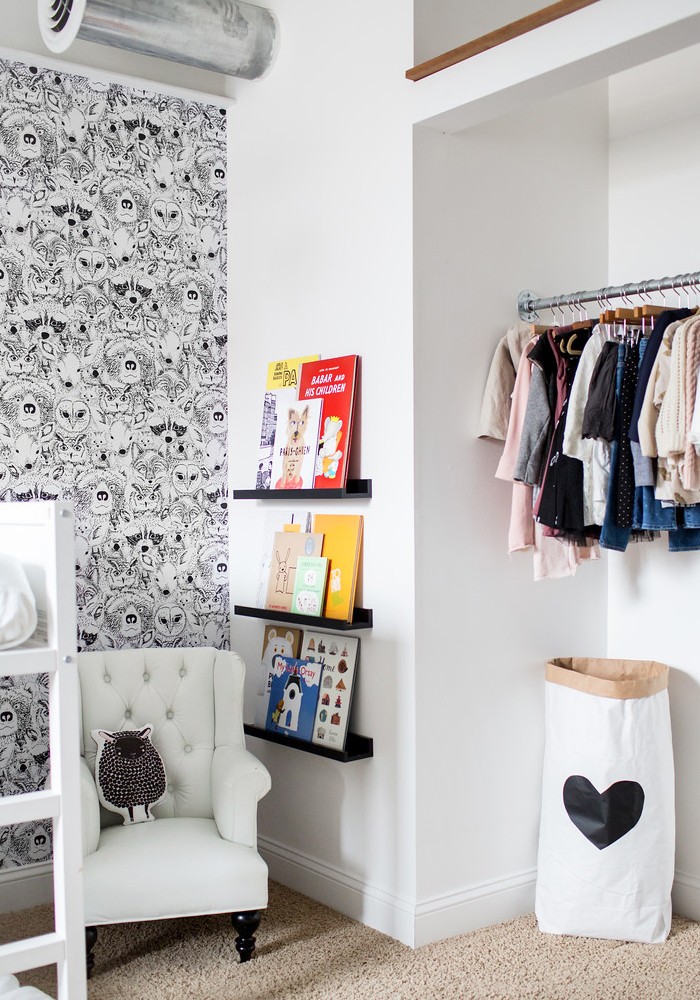 On the other side of the closet in the corner is their cute little reading nook (which they actually use), and surprise – more books! The beloved Parker chair (a gift from a client) has found another home, and still remains one of my favorite pieces. Since I didn't mention it above, the bunk bed is from IKEA, and we painted it a white lacquer. I wasn't sure they were ready for bunks, but after living here for a bit we decided it was time, and would give them even more space to play. We talked about it with them at length and got them excited, and made sure they understood it wasn't a jungle gym. One of the main reasons I chose this one was how low it is – very toddler-friendly. It's a cozy sanctuary for them in a lofty space.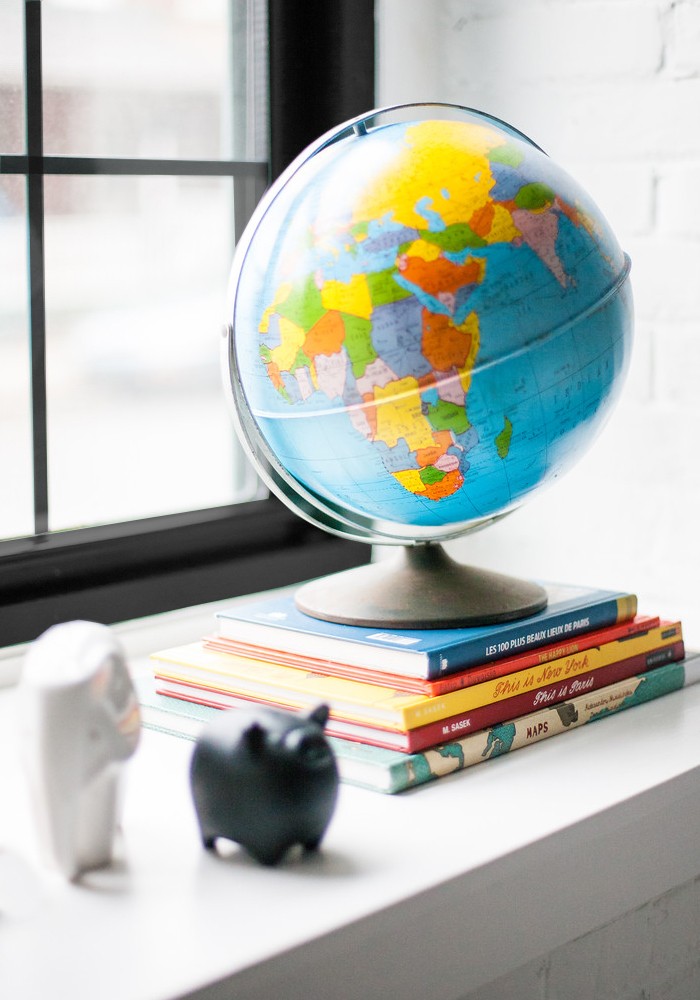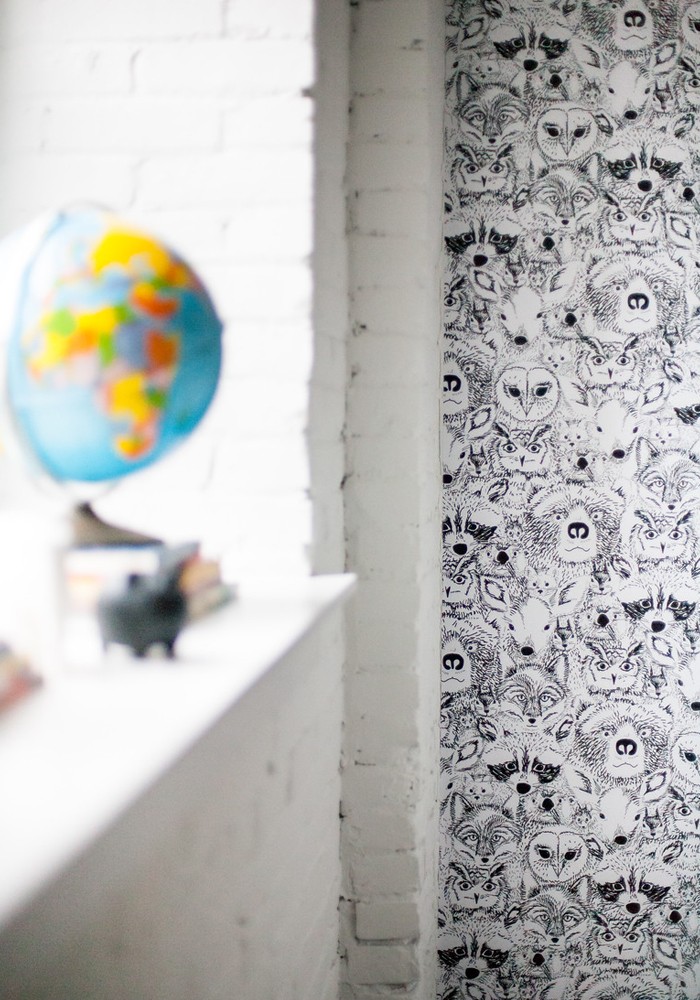 I love how the wallpaper looks next to the exposed brick – did I mention how simple it was to install? It comes in panels, and you literally just peel + stick. For the record, we've never installed wallpaper before, and had such an easy time! Granted, it was just one simple, long wall (no corners or weird angles), but still…I was pleasantly surprised at how straightforward it was. The best part is that it can be peeled off when we move (no unhappy landlords), yay!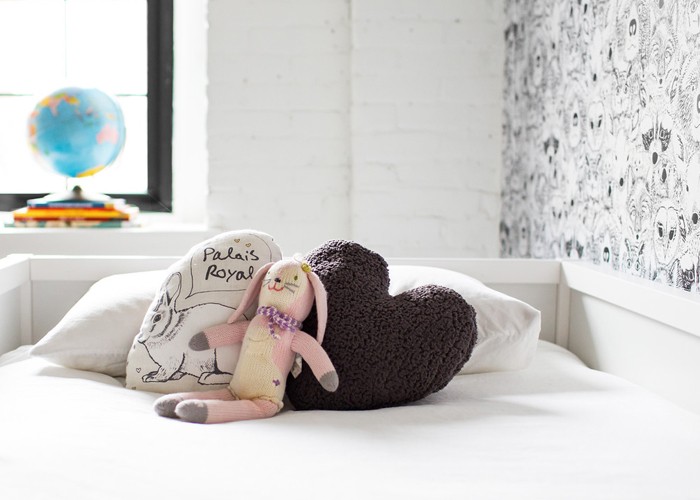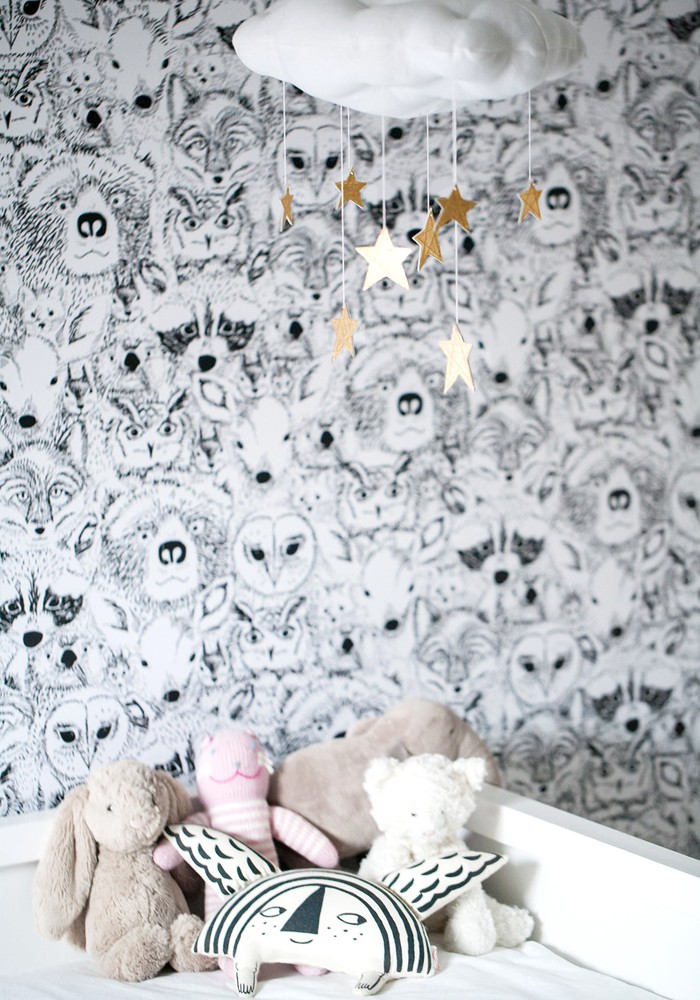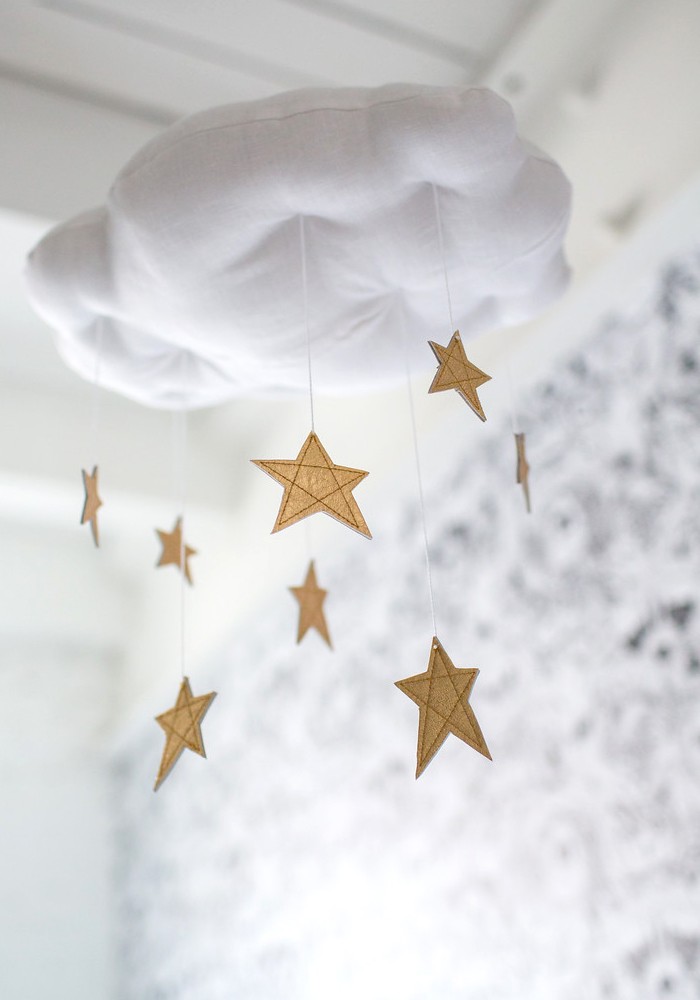 One of my favorite details in the room is the star cloud mobile, handcrafted by my good friend Jahje. Don't get stuck thinking mobiles are just for baby rooms – I've even used them in adult spaces! Since Marie is usually in the top bunk, she loves to count the stars each night, and make wishes. Also FYI fellow moms, (before you have a coronary) I was spotting her just out of the shot – we never let her stand unless we're with her and she is counting stars. No toddlers were harmed in the making of these photos. To sum up this novel of a post, we're all smitten with the new space, much in part to the generosity of Chasing Paper…head over to their site to check out all of their amazing designs!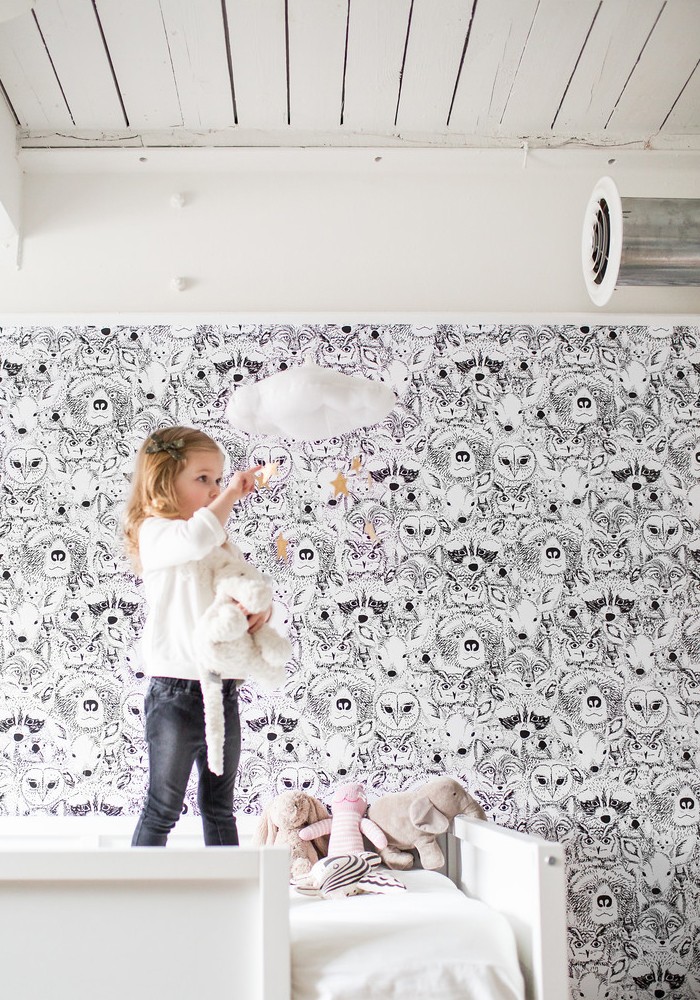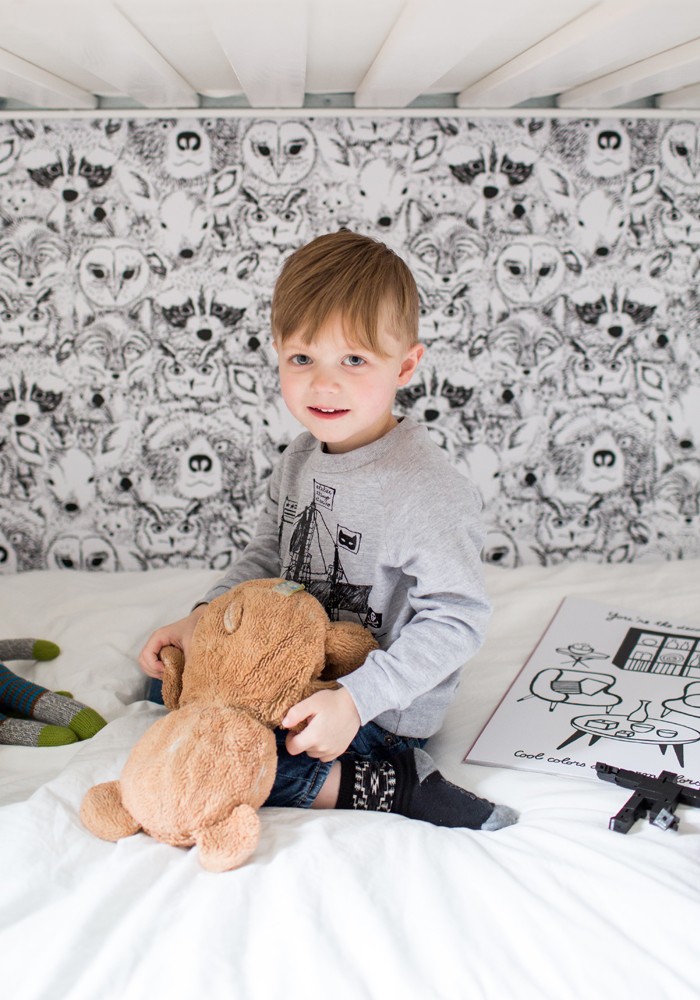 resources: wallpaper | bunk bed | heart pillow | cloud mobile | custom banner | wing chair | sheep pillow | vintage globe | heart paper bag | storage units | backpacks | letter hooks | circular quote artwork | paris map artwork | jazz instruments
wallpaper c/o chasing paper
images courtesy of ashley lynn photography