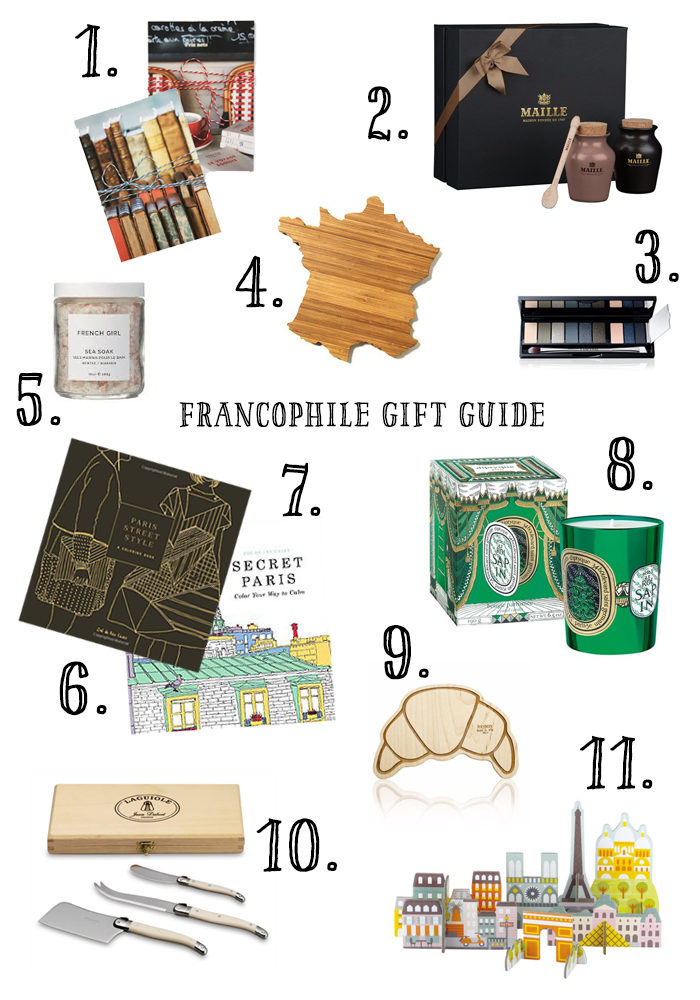 If you're reading this blog post, you most likely have many Francophile friends to shop for – this gift guide is for you! My passion for all things French is well known (and was the inspiration for starting this blog, after all) and I stand behind each one of these selections. I either own them or covet them myself (ahem Santa), so you can feel confident about any and all of them! Also, if you're not already, be sure to follow @thefrancophiles for the best French-inspired moments, places, and people. I may be a bit biased, but I might also be right (wink). Happy shopping mes amis! 
1.   explore the city of light through the eyes of bibliophiles with these literary Paris postcards by Obvious State.
2.   nobody does mustard better than Maille, and this "mustards on tap" gift set is perfect for the holidays.
3.   for the glam girl in your life, this maxi palette by French icon Sonia Rykiel for Lancôme should do the trick!
4.   what could be more perfect than a handmade, France-shaped cutting board?! hashtag hostess gift.
5.   inspired by French body care + handcrafted in Seattle, anything from French Girl Organics is a treat.
6.   coloring books are both fun and relaxing – the Paris Street Style is a great choice.
7.   exhale and escape with the Secret Paris coloring book – even better when paired with pencils!
8.   this festive candle from Diptyque is filled with the incredible scent of a lush, pine-laden forest.
9.   pour les enfants or the sweet littles in your life…look no further than this all-natural croissant shaped teether!
10. no holiday cheese board is complete without a Laguiole cheese knives – get the party started!
11.  for the older tots, the Paris pop-out set by Petit Collage is what little Francophiles dreams are made of.