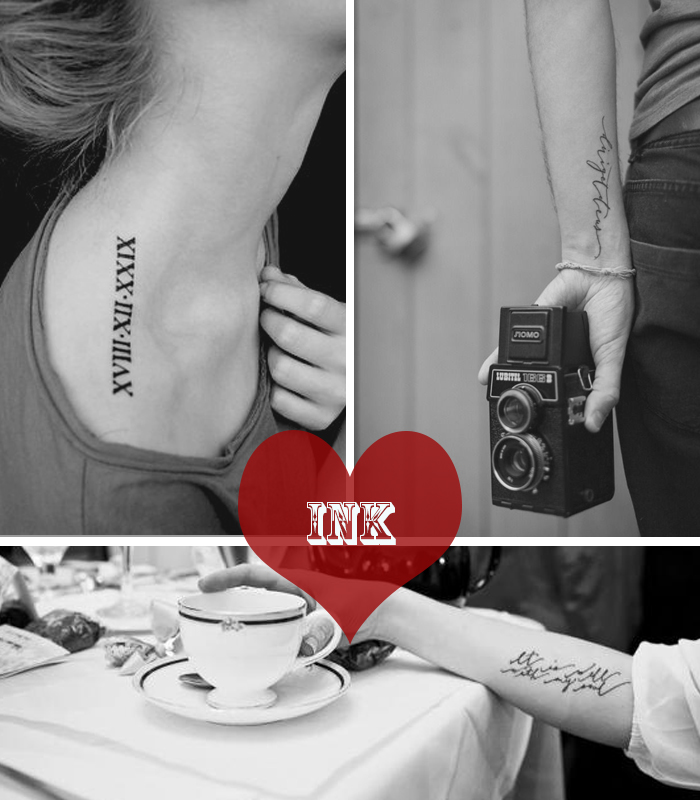 Let's talk tattoos, shall we? I've wanted one (or two) for quite a while…I find the idea to be romantic, and yet bewildering at the same time. A few of my closest friends have intricate designs, and I admire the artistry and personal stories behind each of them. My perfectionism and indecision have kept me from pulling the trigger, but now that I have children I find myself wanting to have a permanent representation of them on my body (besides the stretch marks, ha). After all, they came into existence within me, and will always be a part of me. I am 99% decided on roman numerals of their birthdate, or their first initials on each of my wrists. I also dream of having a beautiful typographic tattoo on my arm (like above), but am not sure I would ever be that bold. Once I get my first one I will know…it could be my only, or as many people say, it could be the stepping stone to many more! If you have a tattoo, I'd love to hear how you decided on it and what the experience was like? Do you have any regrets? Do you want more? I would love to hear your story…thanks for sharing!
image source one // two // three
check out my ink love pinterest board for my inspirations!