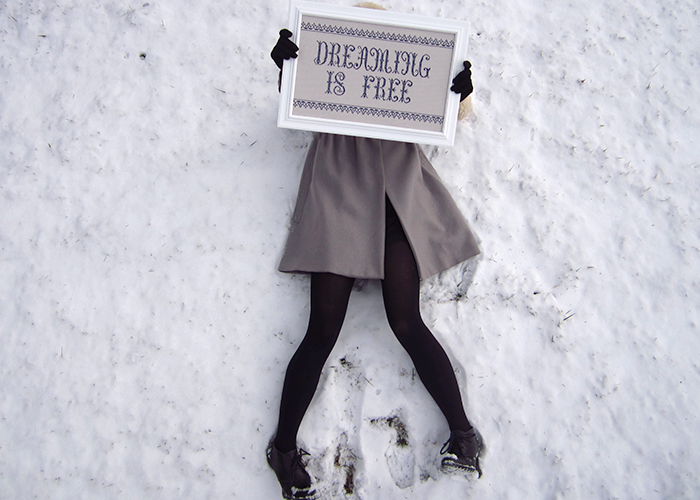 Upon discovering chez sucre chez for the first time, I was hooked (pun intended). Her limited edition and one-of-a-kind cross-stitch pieces are quite sought after-I first fell in love with an embroidered Smith's quote. Who knew cross-stitch could be so modern?! Like many other creatives, Kimberly Scola has taken a passion from the past and made it new again. Her work is thoughtful, playful, and unique, with custom designs like the beautiful pieces hanging in Marie + Henry's nursery (which I will always treasure). It's been a pleasure getting to know Kimberly…the love and passion for her craft and her customers is evident, and she works incredibly hard. Not only does she attend to every detail of her business herself, but she is helping others learn the craft through teaching and diy kits. She is a woman of many talents, and it's wonderful to learn more about her professional journey and how she built  a successful business around her passion.
what is the story behind your business name?
Chez-sucre-chez is an intentionally terrible translation of home-sweet-home into French, but it came from an honest mistake.
While living in Manhattan, a couple of my Parisian friends came to visit and stay with me for a week. We'd go out and walk the city from top to bottom, seeing the sights and doing fun New York City things. When we'd get back to my apartment after one of these long days, they would say, in their pretty-good English, "Ah, home sweet home!"
Months later, I went to visit them in Paris. One day, after we'd been out and about, we approached the door to their flat and I, thinking quickly and the best I could with my self-taught French, exclaimed, "Ah, chez… sucre chez?" If I remember correctly, they both gave me very quizzical looks and then laughed when they figured out what I was trying to say.
My funny little French mistake stuck in my head and then, months later I started using it as my company name. As my work is so inspired by old fashioned notions of home, including those classic old samplers, it fits. Plus, I never had to worry about anyone else already having that as a URL or user name. It does kind of stink to have to spell it out whenever I'm placing an order or something like that, and it is embarrassing when French speakers ask me about it – but most times they, like those who know nothing about French, find it charming, and they appreciate the story.
at what point did you decide to make your passion a business? 
Jobs weren't too plentiful when I moved to rural PA – especially in the industry where I'd previously worked; design and graphics.  I had started chez-sucre-chez just a few months before moving away from Brooklyn, and I'd been really lucky in attracting attention from some big blogs in those first few months, but at that time, it was still something I just did for fun. Once out there in my new little town, though, with plenty of space to set up a studio and not many other options, I decided to give it a go in making chez-sucre-chez my full-time gig. Fortunately, the surrounding area was full of inspiration; the art of the Pennsylvania Dutch, old quilts and samplers, hex signs, stone buildings and barns…I was feeling really creative and really positive. I put all of my energy into it and somehow, I've been making it work ever since!
what did you do prior to starting your business? 
When I lived in Boston, I worked at graphics and web design companies, doing traffic and project management. Then I moved to New York just at the time of the whole dot com bubble burst, and it was really difficult to find a job doing what I'd done in Boston, so I switched gears completely and applied to the New York City Teaching Fellows. I was accepted, and after a six week crash course in teaching, I found myself in front of my own fifth grade classroom in the Inwood/Washington Heights section of upper Manhattan. I taught fifth grade for four years, and though I loved it, and my students, I realized towards the end of the fourth year that it was kind of killing me. I gave all of myself to those kids and found that, at the end of the day, I had absolutely nothing left for myself. Always a creative person, I didn't even have the time or energy to knit, and I realized that this was making me really unhappy, so I left teaching. I think it was almost immediately after that that I really became who I am today.
how did you get into the business of making things?
My first business (that I can remember) was in sixth grade, making and selling friendship bracelets at lunch with my friend Christi. We had a little receipt book and all of the .25 and .50 cent sales that we made went towards buying cookies.
The next business that I had was when I lived in Boston; a made-to-order ceramics business that I called "petit-a-petit." (see a theme here?)
Making feels like a really integral part of who I am, and I think I'm happiest when I'm doing it for work.
what brought you to Philadelphia? 
In 2008, after living in big cities for 12 years (Boston and New York), I got to missing Pennsylvania, and the countryside around where I went to college (Kutztown University). I wanted a home of my own, with a yard, in a simpler place where I was closer to where my food was being grown. So, I bought a house and moved out to the country.
where do you work from? tell us about your studio.
I now live in Thornton, PA – a little less than 30 miles south of Philadelphia, in the Brandywine River Valley area. My boyfriend and I rent out the top floor of a big old 1840's farmhouse, and this is where I have my studio.  It feels like living and working in a treehouse, with our windows looking out into and over the canopy of ancient black walnut and pine trees. It's been a long time since the property was used as a working farm, but it's still a wonderfully inspiring place with so much charm. There seems to always be some plant or tree in bloom somewhere in the large yard, we watch the sun rise over the trees from one side of the house, and set from the other, and we've got hawks and owls and bunnies and deer (and an elusive fox) — it's pretty great!
My studio is where all of my supplies and materials live, and where most of my work happens, but I do admit, that often, my work overtakes most of the house…. Sometimes, the light is best in the bathroom, or the laundry room, and so that's where a photoshoot happens. The kitchen table often becomes a work table, the living room usually has a few boxes that are waiting to be opened or sent out, and there's always a needle, thread, and scissors in just about every room.
what does a typical work day look like for you?
A typical work day is almost always anything but typical! I'm honestly not so good at routine, and I tend to take on at least three things at once, hopping from one task to another and back again to the first with the attention span of a toddler. Luckily, with so many different kinds of things that need to be done at any one time, I can jump from task to task and never get bored. I find that it works for me to spend the mornings doing computer work, the days doing the active work of assembling kits, taking photos, shipping orders, etc. and the evenings I spend sitting and doing my stitching work. With a business like this, the work/life balance is a challenge, and loving what I do as much as I do, it's even more of a challenge, because I rarely ever want to put down the needle and thread!
Cooking and baking are what I do to get away from work, it's what relaxes me and at the same time keeps my hands busy. Working from home, I find that kitchen time – doing the dishes, starting the evening meal, listening to NPR, maybe drinking a glass of wine – is a great way for me to transition out of work mode.
what are the most rewarding aspects of your work? 
Interacting with my customers is, by far, the most rewarding aspect of my job. I love seeing the same faces at craft fairs year after year, getting emails and photos of completed kits from customers, meeting people who tell me they've followed my blog or started stitching because I what I do. It is *so* rewarding. I have customers who I've kept in touch with for years – people who supported chez-sucre-chez when I was just starting out and who continue to order new pieces or kits, and now I think of them as friends; Dana in Pasadena CA, Susan in Milford NJ, Thorbjorn in Sweden, Sandy in Florida – these folks make my job the best.
I love that, so often with the work I do, especially the custom-stitched ones, there's a personal story behind the pieces that I'm sending out. It's wonderful to have a job where I'm able to share that sort of connection with the person on the other end; that I'm able to create something that makes them happy and that becomes a part of their home. I really really love that.
what is the most challenging aspect of running your own business?
The most challenging aspect of running my own business is getting everything done! I'm a one-woman operation, which means everything that needs to be done, needs to be done by me. All of the emails, all of the production, all of the photos and shop management and packing and shipping and  – everything else! I've had interns in the past, but that was always kind of challenging for two reasons because one, I'm a bit of a control freak when it comes to chez-sucre-chez and two, I think I'm a pretty terrible boss because I'm just too nice. My mother retired a couple of years ago and she has been amazingly supportive and a wonderful helper when I need her; she's one of the few people I trust to iron tea towels to my standards!
Years ago, in a particularly busy spell, my father asked me, "What are you going to do when you get so big that you can't handle it all on your own?" He was suggesting that I was going to have to sub my work out, or get one of those fancy embroidery machines that does the stitching for me. And I did consider that for a little while. However, that's just not chez-sucre-chez… I really believe that the integrity of chez-sucre-chez is that it *is* so hand-made… It's important to me that I'm doing the hand stitching, that it's done the way we remember our mothers and grandmothers doing it. That is what I think makes chez-sucre-chez unique, and it's what people seem to appreciate when they tell me at craft fairs, "You just don't see work like this anymore." Through my diy kits, teaching workshops, and my love for what I do, I'm trying to change that.
what inspires you?
I'm inspired by the old traditional homespun handicrafts, – the things that women (and men!) used to just make for themselves and their home. I'm inspired by the old pioneer spirit of using scraps and the materials at hand to make a beautiful and functional home. I'm inspired by the phrase "make do and mend." I'm inspired by heirlooms and what it means to craft something meaningful with pride and skill so that it becomes a part of someone's life.
please check out Kimberly elsewhere… shop / etsy / twitter / facebook / instagram / flickr
 **philly creatives is a regular feature..read the archives here**