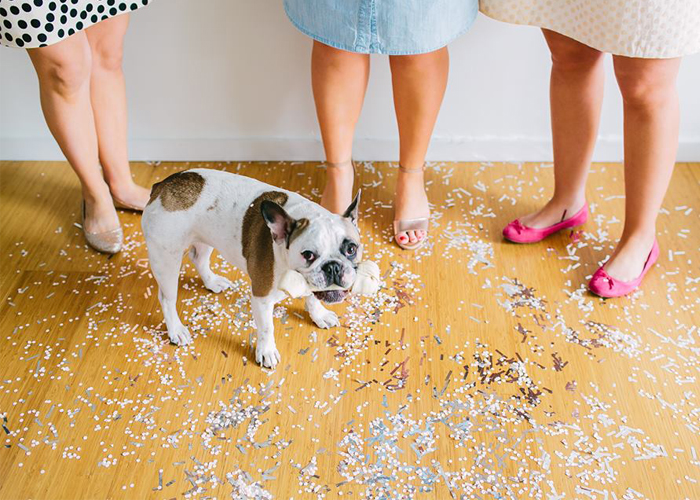 I have a feeling that anyone who works with Confetti + Co. gains three new best friends (ok, four – including Millie the company mascot). Owner + designer Sara Murray and her team create stylish, fun and memorable affairs, and make sure clients have fun along the way!  From edgy glam to rad nautical, they've got you covered. Their latest venture was the most fun to date…a beautiful dog wedding, which has already gone viral! Seriously, if you're having a bad day, just watch this video. Sara decided to pursue her passion of planning + design full force in 2013, after a successful career in the industry, including a stint as decorations stylist for BHLDN. She finds joy in helping lovebirds share their happiness with the world, in the most beautiful way possible. So without further ado, meet Sara + learn what inspires her and the team!
what is the story behind your business name? 
confetti & co. happened really organically. I thought… well… maybe I should have a name for myself, so I wrote a list of things I loved. Confetti was at the top, and so were other things like the word YAY and the word HOORAY. I toyed with many combinations but in the end, let's be honest – I added the & co. because it sounded super official. For a girl who starts a business by her lonesome there was something empowering to thinking "one day… I will have an "& co."
explain your business and the idea behind it.
I wanted to have a business where people knew they were being given a luxury service but also felt like they were hanging out with a friend. Confetti & co. is full of fun whimsical details and we never take ourselves too seriously. We love cheekiness, we love laughing, we seriously just love love and the idea behind all of this is we try to make things easier on couples and make environments pretty for couples so that they can have one heck of a celebration.
at what point did you decide to make your passion a business, and what inspired you?
I was at BHLDN and I missed wedding days. I missed those "holy jeez my feet hurt but look how happy everyone is" moments that make you believe in true love and yadda yadda. I'm insanely organized and love design, so after spending some time in the strictly styling world, I decided to put my planning pants back on and head out into the world as a business owner. I equipped myself with a ton of real world experience and enough money to last myself until my lease was up. I had 4 months to make it work and miraculously, it did.
what are the most rewarding aspects of your work/passion?
Happy people. My job as a planner and designer is to get inside my clients head, learn what they need to enjoy their day to the fullest and give it to them. For some, they want that amazing band and totally amazing dance party with their friends and family, and seeing them dance the night away is the most rewarding thing. For others, it's managing potentially stressful situations by taking things off their plate so they CAN have fun. It's knowing that we made someone happy and tried our best that feels so rewarding and fulfilling.
as you've developed your business/brand, what has surprised you most?
Honestly, I'm so surprised by how amazing the wedding industry friends I've made are. I was sad leaving my full time gig – I thought… I'm not going to have "work friends" and soon, I got adopted into the Philadelphia Weddings committee, started the #phillyloveclub and watched how people come together, connect and share and realized – I was totally wrong, there's such a huge community here and I'm not an island.
what brought you to philadelphia, and how does the city inform your work?
I came to Philadelphia by way of freshman year of college many years ago. Being from a small town in the Poconos I had no idea what I was in for. I easily got overwhelmed and moved to the suburbs to finish college. Immediately after college (lets face it… even during college) I knew I had made a mistake. I missed Philadelphia and it's quirks. This city is thriving with artists – creators and crafters. I especially love my neighborhood of Fishtown, which is chock full of some of the most talented people I've ever met, all within a 10 block radius. It's magic. I never want to leave.
where do you work from? tell us about your office and/or studio.
confetti & co. is making moves! Right now we work from my home, where episodes of reality TV are often on as we craft the day away, but soon we'll be in a new studio with our friends Love Me Do Photography. We're excited to branch out into the new space and layout some rooms. I'll be honest – I'm excited to get up, put on real clothes and "go" to work.
what does a typical work day look like for you?
I wake up. I have my coffee. I answer some e-mails (and by some I mean a ton – let's be real, weddings never sleep). After e-mails are out of the way, I work on the day's projects, which is the fun part. Whether it's working on a new design plan, sourcing special props, meeting with our super awesome clients, pinning inspiration, crafting sensible timelines, reaching out to vendors to get everyone on the same page for clients' big days – it's always different and never gets old to me. I love this job. Before the day is done, it's back on e-mail again to tie up loose ends before I shut it down and spend the evening snuggling with my little family.
what inspires you?
I am constantly inspired by people. Being an event designer and planner who works mostly with weddings, I get excited learning how the couple fell in love, and the things they love to do together. Their favorites, their personalities. The most fun part of my job to me is to try and capture someone's essence in a design – and these people, their ideas and who they are keeps me going and always inspired to create something new, fun and uniquely them!
what drives you most as a creative entrepreneur?
Excitement and passion. I've always had this energy within me to do something exciting and fun, and to make something great for people. Knowing that it's my job gives me the drive to really hustle and make things happen.
please check out confetti + co. elsewhere… facebook / twitter / instagram / pinterest
**philly creatives is a regular feature…browse the archives here**