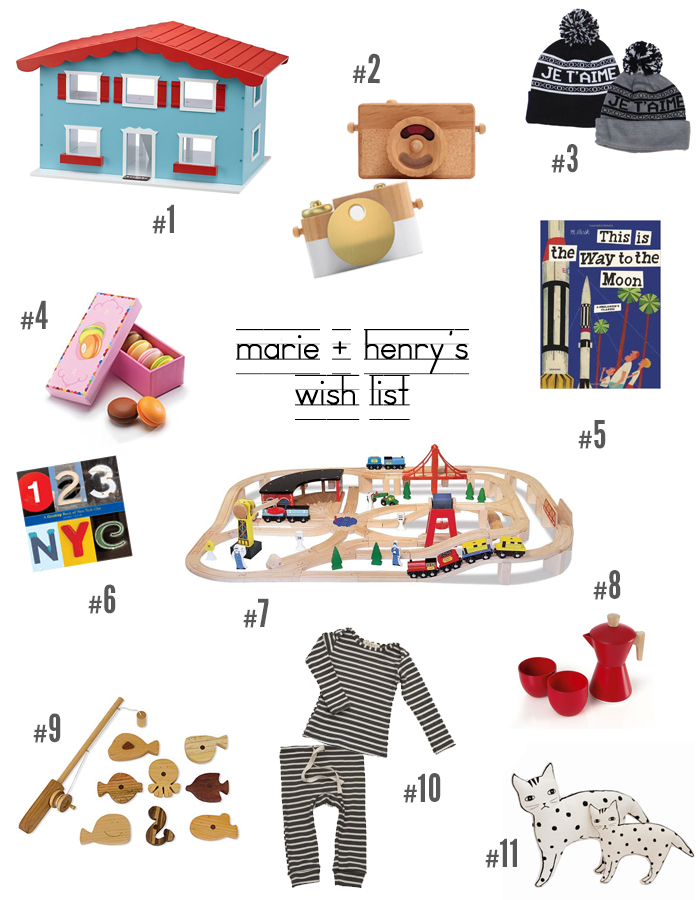 This holiday season is already so much more exciting than the last, with Henry + Marie being old enough to acknowledge the magic. We are savoring the season and finding so much joy in rediscovering the wonder through their eyes. All of these items are luxuries, obviously…they are two lucky little ones. We have already donated many of the kids toys and clothing to those in need. They may not fully understand why we do it yet, but it feels good and is what the season is all about, after all. We've fully embraced the spirit over here, and I'm sharing this list in the hopes that Santa is a blog reader. Seriously, what does he do in his off time? It's not that far-fetched. So, dear Santa…they've been good. Really, really, good.
1…THE LAND OF NOD cottage dollhouse…they've been obsessed ever since I showed them mine.
2…TWIG CREATIVE wooden toy cameras…been holding onto these for christmas, I can't wait!
3…WHISTLE + FLUTE je t'aime beanies…mommy may have ordered a matching one too (shhh).
4…DJECO wooden macarons…for mes enfants + their wooden food collection! 

5…M. SASEK this is the way to the moon…for our little bookworms + explorers.

6…JOANNE DUGAN 123 NYC book…getting the kids excited for an NYC jaunt.

7…MELISSA + DOUG wooden railway set…both henry + marie are obsessed!

8…BRIO coffee set…well, because it's just so cool.

9…SOOPSORI wooden fishing set…we love wooden toys and this would be an awesome addition.
10..MABO KIDS organic cotton tee + leggings…these soft + cozy clothes are beautifully handmade – we're big fans.

11..LE TRAIN FANTOME limited edition cats…these spotted friends would look so great in their new toddler beds!