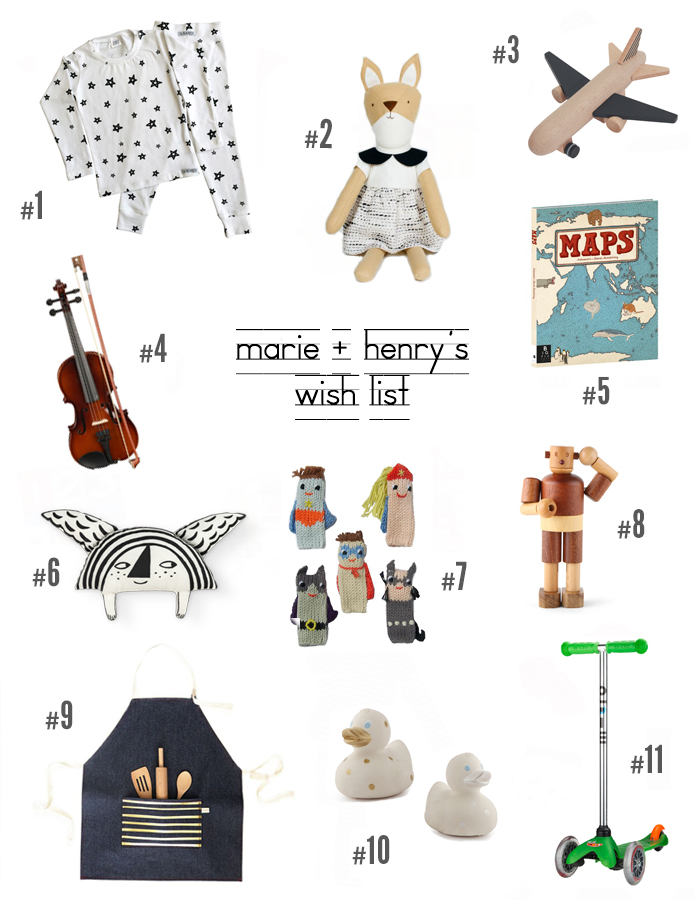 Every year I share Henry + Marie's wish list, in the hopes that Santa is a blog reader. For the first time, they actually wrote a letter to the big man himself and mailed it to the North Pole. They both asked for instruments (to our delight) – a violin and a guitar, to be exact. Oh – and scooters (perfect for our more urban situation). If you're looking for more children's gift ideas, you can browse their past wish lists here + here, as well as this pinterest board. The kids have been sweet about donating older toys, and we also make a donation to a charity each year – here is one of our favorites. As with every holiday, it is such a gift to experience the magic through their eyes. It is the best part of this season, by far.
1…G NANCY black + white stars pajamas…they're both in need of a new pair (we love them).
2…WALNUT ANIMAL SOCIETY ruthie the deer holiday edition…obsessed with everything about this.
3…KIKO hikoki jet…to remind them of our adventures + to inspire more!
4…Y.R.SEASONS 1/4 size ebony acoustic violin…for mes enfants + their wooden food collection! 

5…ALEKSANDRA + DANIEL MIZIELINSKA  maps…for our little bookworms + explorers.

6…ROXY MARJ lilbow pillow doll…to inspire sweet dreams + imaginations.

7…BLABLA KIDS super hero finger puppet set…both M + H are into all things super hero at the moment!

8…SOOPSORI wooden robot…well, because it's just so cool.

9…ODETTE WILLIAMS denim + gold kids apron…for baking christmas cookies!
10..OLI + CAROL small spotty ducks…I love all of their natural, chic bath toys. 

11..MICRO KICKBOARD mini micro scooter…don't worry, Santa will bring helmets too – bring on the fun!