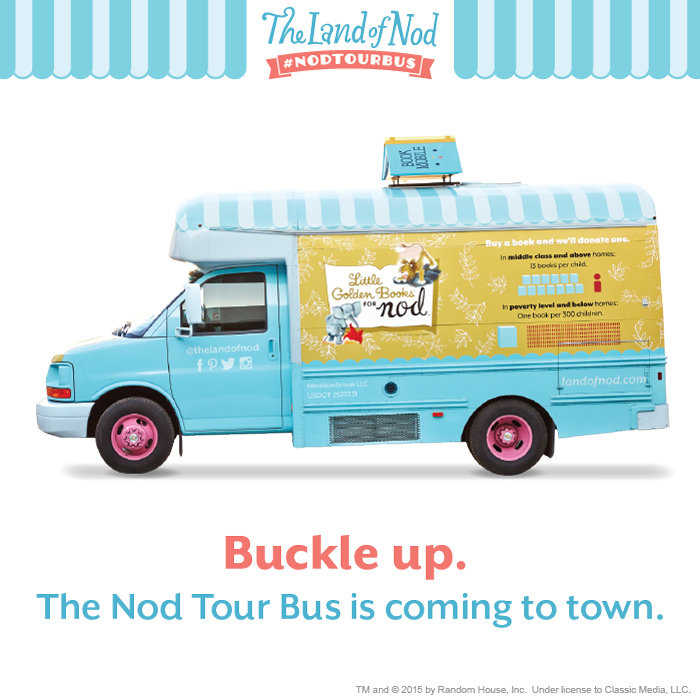 Have you heard the news?! The Land of Nod just announced their partnership with Little Golden Books, and I couldn't be more excited. The new collection includes an adorable range of products – unique gifts, bedding, decor, and of course…books! Little Golden Books are dear to my heart, as I have vivid memories of them as a child, and cannot wait to collect them for Henry + Marie. As part of their campaign, they've given the Nod Tour Bus a new look as a bookmobile, and it's coming to Philadelphia! They will be making several stops in our area, which I've listed below…but you can also see the full list of states + stops (plus a cute little video) here. For every book purchased, Random House Children's Books will donate one to Milk + Bookies…how awesome is that?! And psst…I'm going to be the special storyteller at the Baldwin's Book Barn location (in West Chester)…I'm so honored + elated! I hope you'll join the fun next month!
Friday, May 1  |  Book Barn | 4 p.m. – 6  p.m.
Saturday, May 2  |  Nest | 9 a.m.- 11 a.m.
Saturday, May 2  | Sister Cities Park | 1 p.m.- 6 p.m.
Sunday, May 3 | Shane's Candies | 11 a.m.- 1 p.m. 
Sunday, May 3  |  Smith Memorial Playground & Playhouse | 2 p.m.- 4 p.m.