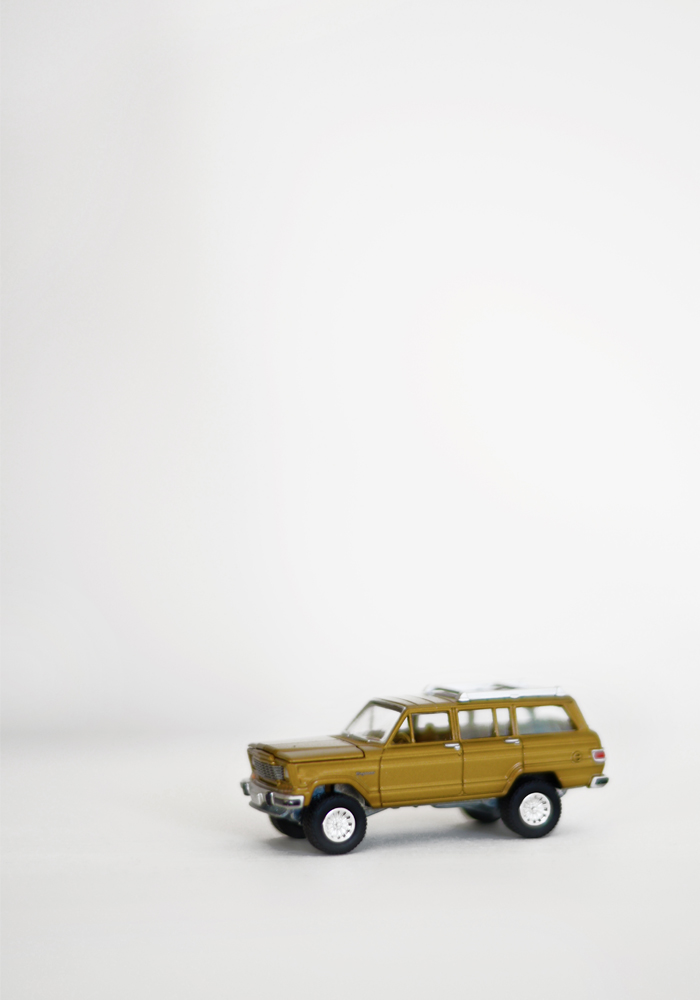 Warning – this post is random, as are these facts. I've never done anything like this, with the exception of my very personal "things I'm afraid to tell you" post a few years ago. I thought it would be fun to share some (lesser known and lighter) facts about myself, and I'd love for you to play along in the comments!
1.  I've wanted a Jeep Grand Wagoneer ever since seeing Funny Farm in 1988. That gold one above sits on my desk.
2.  My (alcoholic) drink of choice is scotch (preferably Glenlivet), neat.
3.  I'm not a cyclist, but am obsessed with watching the Tour de France. It's my Superbowl.
4.  Thanks to my husband I've become a coffee snob, but still add cream (oh the horror).
5.  I always staple in the center…never the corner.
6.  My first job was dressing up in an easter bunny costume (in 90 degree heat) + waving on the street. Good times.
7.  I'm obsessed with the Sound of Music, and can reenact almost any scene (to include singing).
8.  I've always wanted to be a teacher (my Mom was), and nerd out at teacher supply stores.
9.  I like to pluck + pick things. I think I could have a very happy career as an esthetician.
10. As a kid I was a LEGO maniac, and had a room-sized town (ahem, only child).
11. I talk to animals…all animals. I've been known to embarrass my husband at aquariums.
12. When I ran track they called me Suzi-Q…the "Q" was for quick. Oh yeah.
13. I usually start packing a few weeks before a (big) trip. I'm already behind for our upcoming Paris trip, eek!
14. My kids and I have a lot of dance parties.
15. I once babysat a pig.
16. The least French thing about me is my aversion to (most) cheeses. Insert shame emoji.
17. I was born on the same day as Bonnie Parker + Julie Andrews.
18. When I was seven, I wanted to marry Michael Jackson. Joey from NKOTB was a close second.
19. My favorite muppet is Beaker.
20. I took ballroom classes for fun in my twenties, with a preference for samba.
21. Miniatures are my jam…dollhouses, mini-bar bottles, travel size things. It's a problem.
22. I won a (national) poetry contest in highschool and was published.
23. Large open areas freak me out…grand staircases, stadiums, mall atriums, etcetera.
24. I love rap + hip-hop…especially old school stuff. Afrika Bambaataa, Grandmaster Flash, Kurtis Blow, all the greats.
25. I have two tattoos…my first one was at the age of 34 (last year).