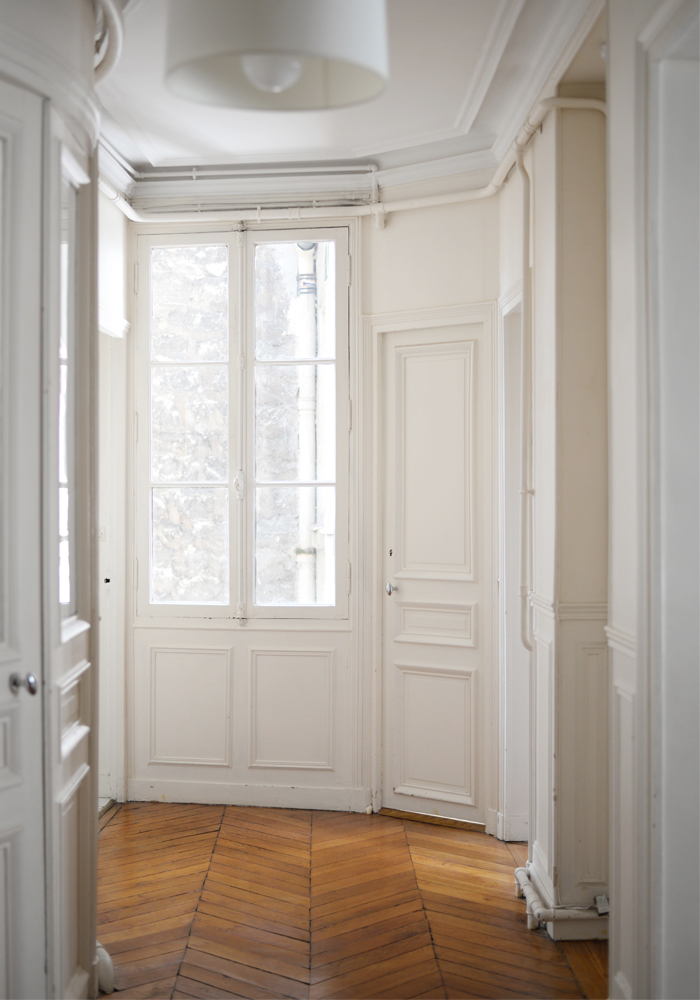 We've been back home in Philadelphia for a week now, and I'm still pinching myself. Did we really just manage a trip to Paris with our (2-year-old) twin toddlers?! YES, and I'm happy to report that even with the jet lag, meltdowns, and all the standard toddler idiosyncrasies, we all had an amazing time. International travel with kids (especially toddlers) can be intimidating, but finding comfortable and central accommodations made our experience so much easier. Before we even booked our flight, I began searching airbnb listings, and discovered this family-friendly gem in the 6th arrondissement. Saint-Germain-des-Prés is one of the most beautiful (and famous) neighborhoods on the Left Bank, centrally located to most of the major sites, and some of the best Paris has to offer for children. Our apartment was what (Parisian) dreams are made of – the light, the floors, the marble, the period details…swoon. Seriously…was it all a dream? I'll be honest, seeing these family photos of us in the apartment is emotional for me…we made such beautiful memories there.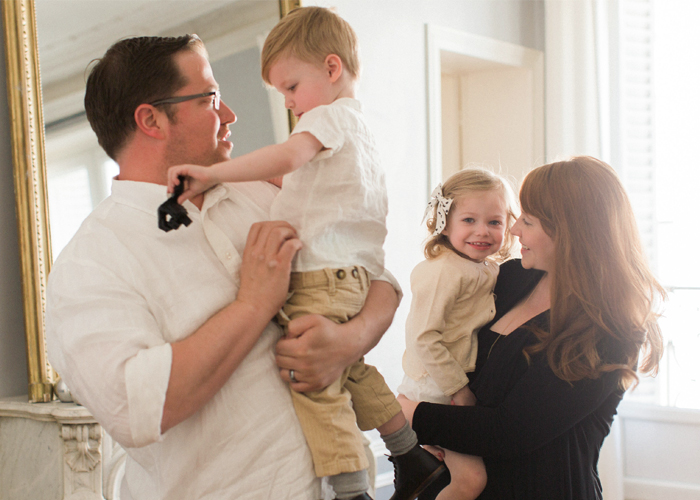 There are many benefits to renting, but a major one is the opportunity to live like a local – experiencing the culture fully. You are literally staying in someone's home, so it's – for the lack of a better term – homey. Having the ability to re-create familiar scenes are especially important when traveling with kids. For instance, we mostly cooked breakfast and dinner in our apartment, and dined out for lunch. It saved money, and kept the kids feeling as if our normal routine was (somewhat) in place. Having a washer/dryer was freeing, allowing us to be more carefree when it came to the kids getting messy, whether sliding along the rails of Canal St. Martin (yep that happened) or having their first taste of Berthillon. Some days we would return to the apartment for nap time…Henry + Marie loved their vibrant, light-filled bedroom. The owners have three girls, and their artwork basically wallpapers the (oval-shaped) room…M + H would lie in bed describing what they saw – "I see a funny face", or "look, the Eiffel Tower"! Their comfort was paramount, and they felt it from the moment they laid eyes on the toys, art, and toddler-sized beds (insert a collective parental exhale).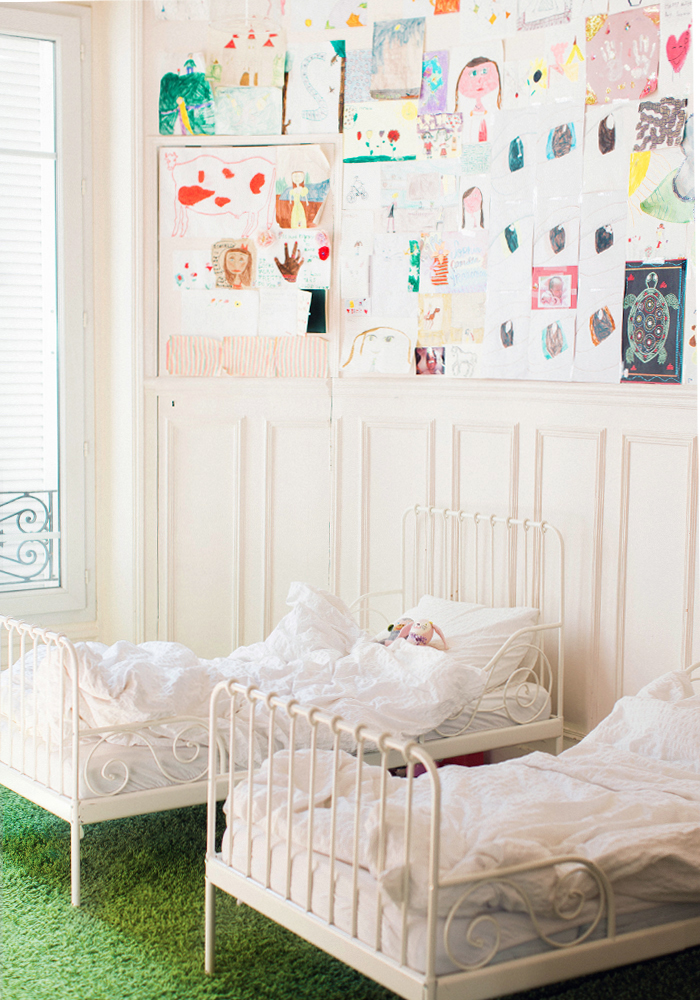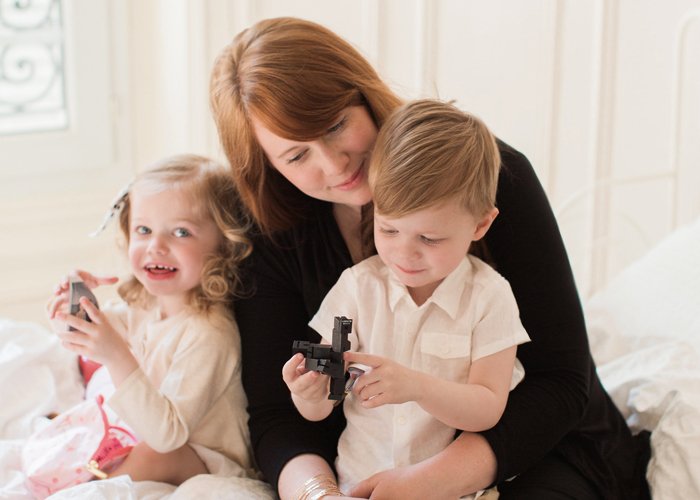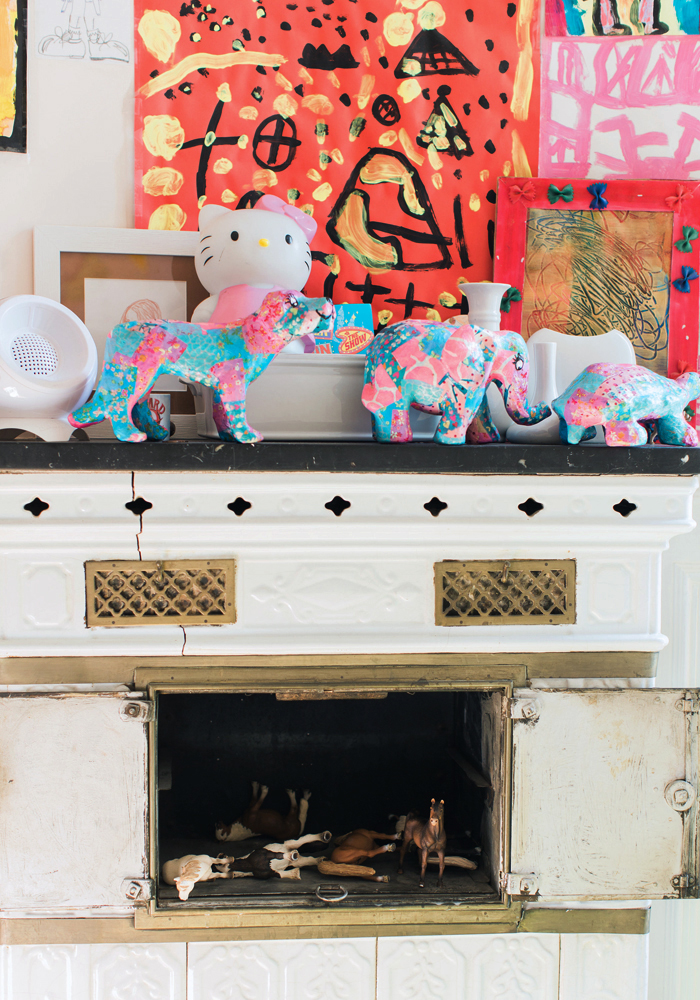 Even though we brought a few favorite toys from home, the apartment was filled with ample surprises + fun things (i.e., the horse collection inside the antique porcelain fireplace). So cool, right?! Of course, being situated a few steps away from an adorable toy shop didn't hurt either. Our location was ideal, with charming cafés, both a metro and bus stop on our street, and a grocery store below us. We could quickly run downstairs for milk, diapers, or even take the kids to discover and learn…"ou est la banane?". In the evenings, once the kids had settled into their sweet slumber, we could be found on our balcony, enjoying a glass of (amazingly good, amazingly inexpensive) French wine. We would discuss our day and make plans for the next, while watching the golden light stretch across the building facades, with the ever-present hum of the city beneath our feet. (My apologies for being overly poetic – Paris has that effect on me…le sigh.)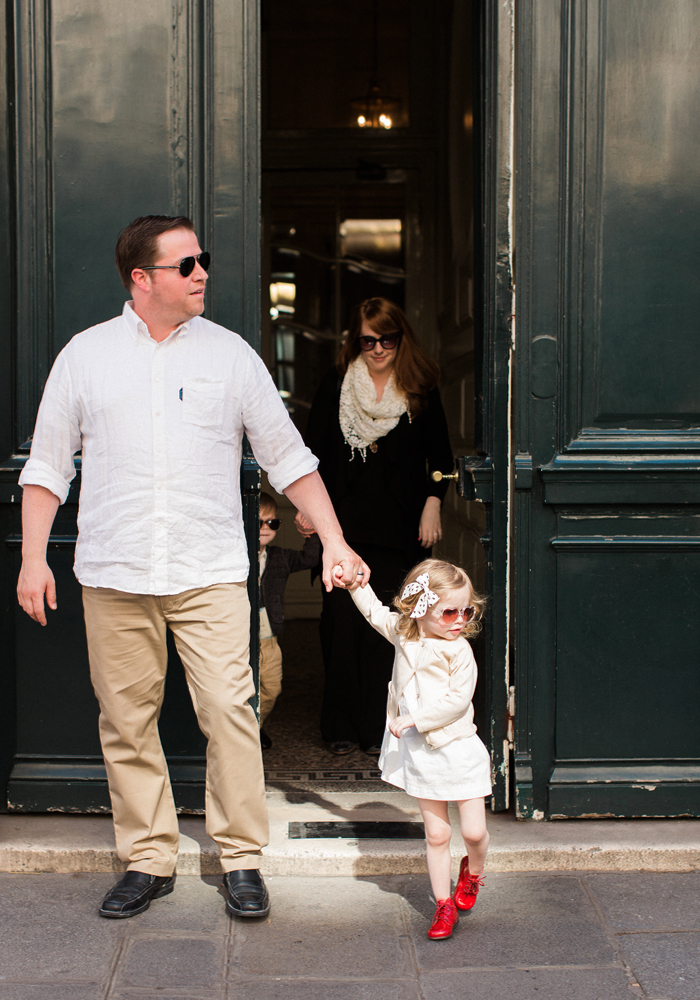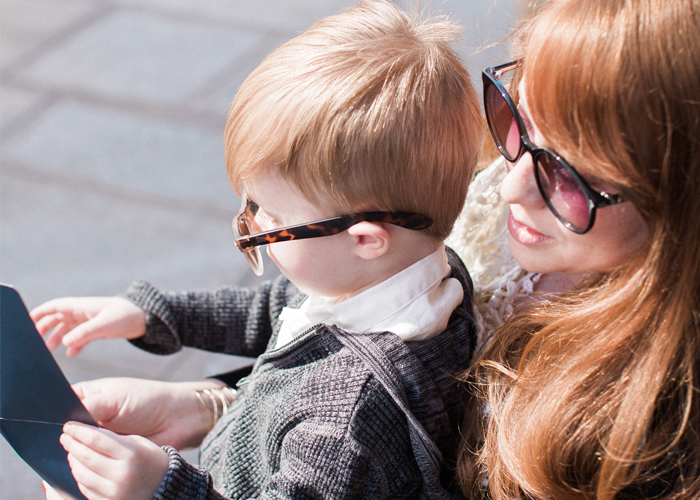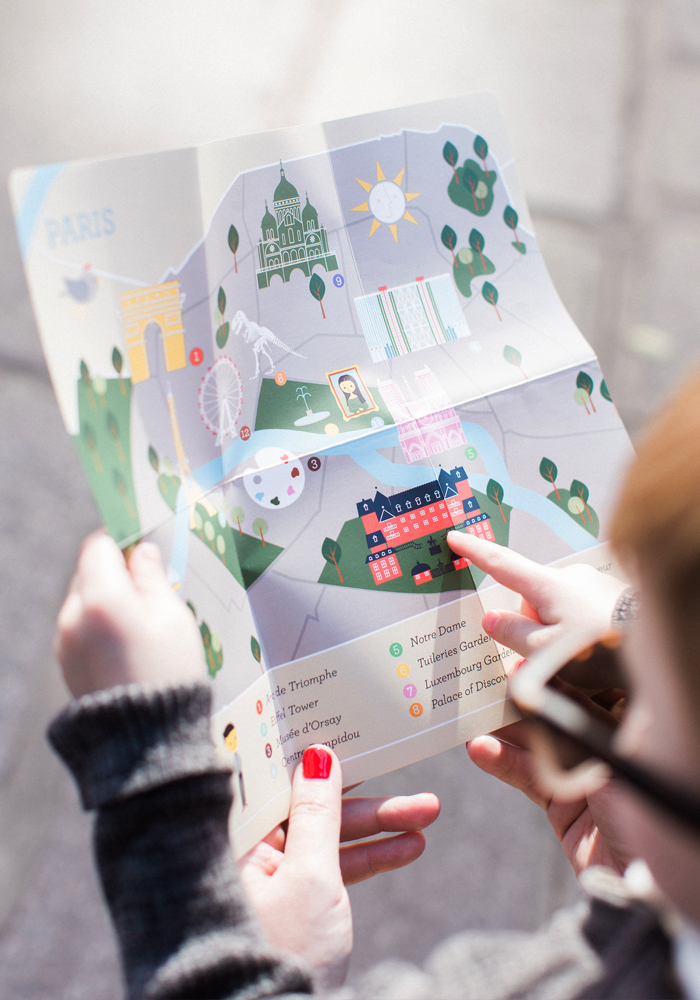 Most days we found ourselves heading out around 9 AM, and being centrally located meant we could either walk or, in the case of a more distant neighborhood, grab transportation. After much debate, we brought our stroller, and we're so glad we did. Paris is a very walkable city, and most of the best experiences happen while leisurely wandering around. We were able to enjoy a crepe without wrangling kids, we had a place for purchases (99% of which was for the kids, ha), and we could accomplish more being mobile. Henry enjoyed playing tour guide, and chose the Luxembourg Gardens almost every time. Only a few blocks away, plenty of room to run, a playground, carousel, ponies, ice cream and sailboats…I can't blame him. Each day was filled with memory making and new adventures – I'll be sharing more here (and on instagram) soon!
Also, this girl…killing me.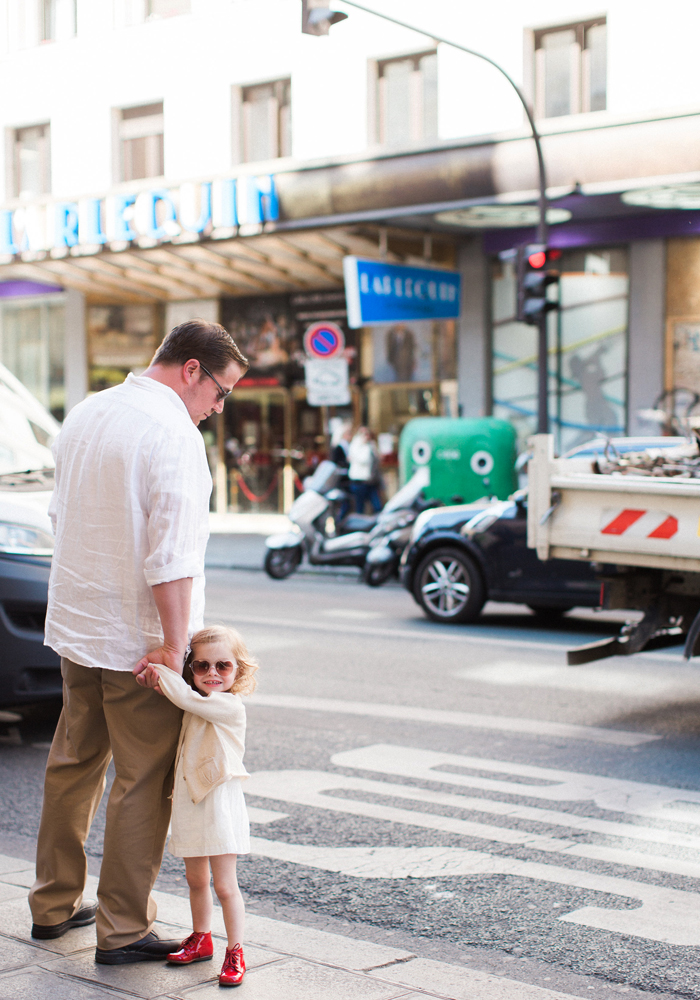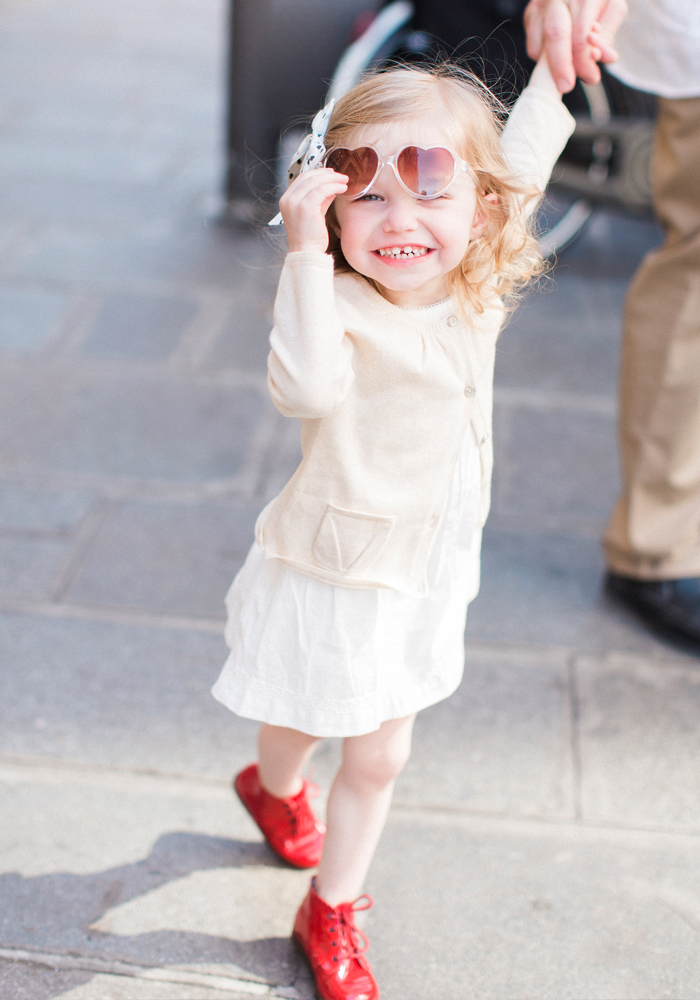 rent this apartment and/or get $25 off of your first stay with airbnb
 this post is sponsored by airbnb – they covered the cost of our apartment for our stay.
photos by ashley ludaescher photography