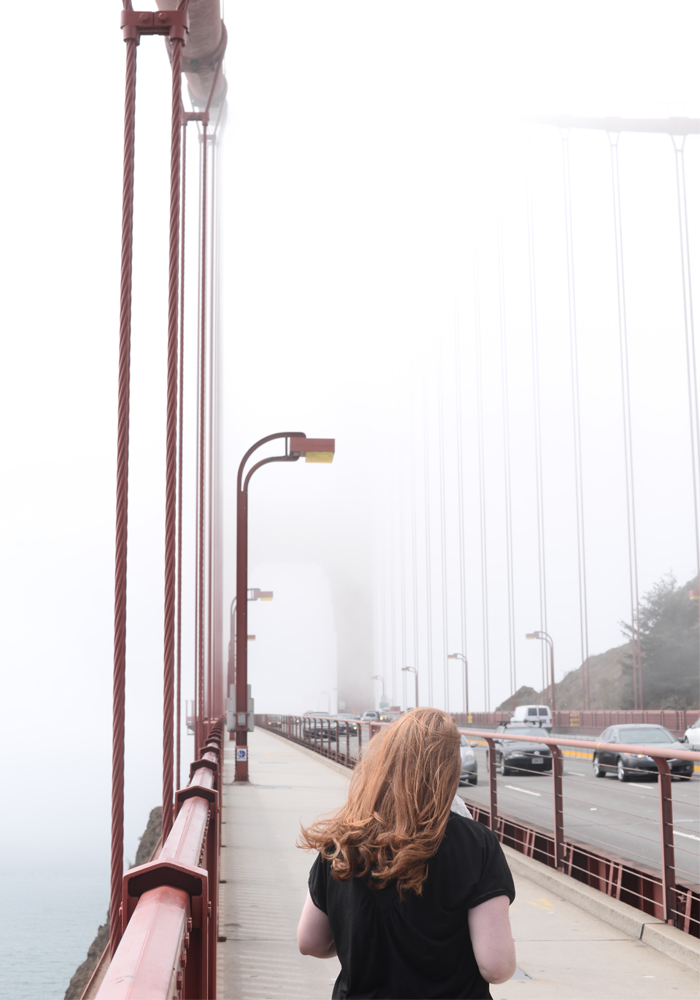 After our time in Los Angeles, we drove up the coast (taking the 1, the 5, and the 101!) to San Francisco. We arrived at night so we rested and had a busy first day. As you can imagine, the first thing on the agenda was seeing the bridge (shocker). I'm thankful for mr. fleurishing sneaking this shot, as I stood in awe of the bridge. Finally getting to the city was a bit emotional for me…my grandfather loved coming here, and waxed poetic about the city. When he decided (at the age of 70) to learn to play the piano, the first song he chose was "I left my heart in San Francisco". We played (and sang) it together, and to this day it's the one + only song I can play on the piano. I get teary eyed every time I hear it. Seeing the Golden Gate Bridge for the first time took my breath away, even with the fog, and brought back very special memories.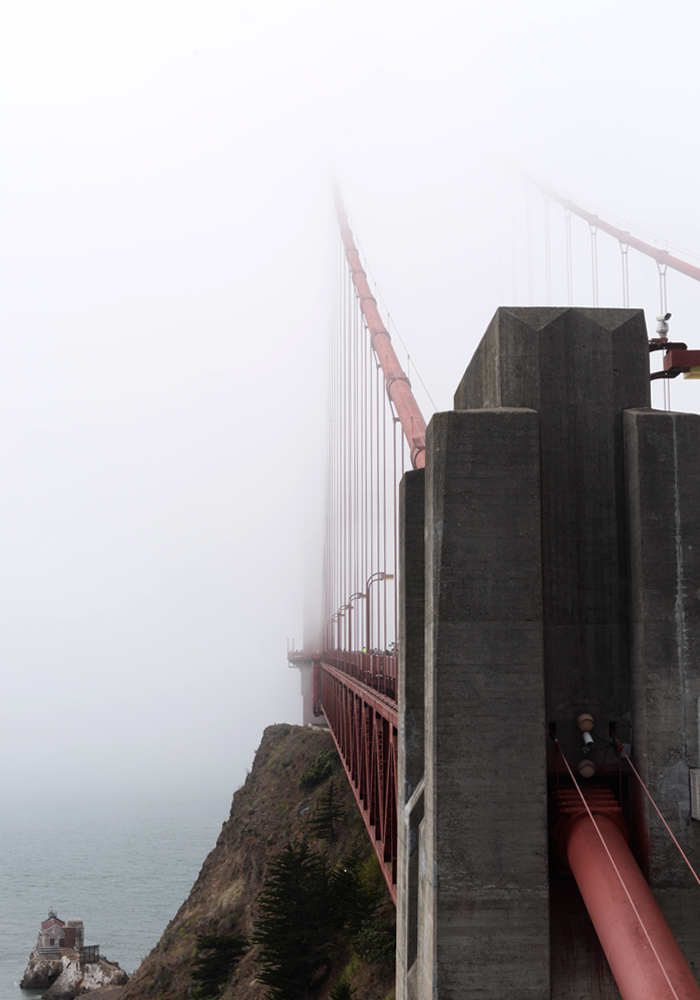 The enormity of the bridge really is awe-inspiring, and the fog manages to make it even more spectacular. It is incredible how you can't even see it, and then as you drive across, the ghostly towers emerge as you pass under them. The view from Vista Point is stunning, and getting on the other side of the fog in the sunshine, and watching it roll across the bay is so fascinating. I find fog to be simultaneously freaky and amazing. After exploring and walking a bit of the bridge (holy wind and noise) we drove back down to the base of the bridge, for the view from Fort Point. The kids were having a minor (hangry) meltdown, so I jumped out of the car to get these photos quickly. Ah, the reality of traveling with toddlers. I managed to avoid getting wet while taking these, although a few other people didn't have the same luck.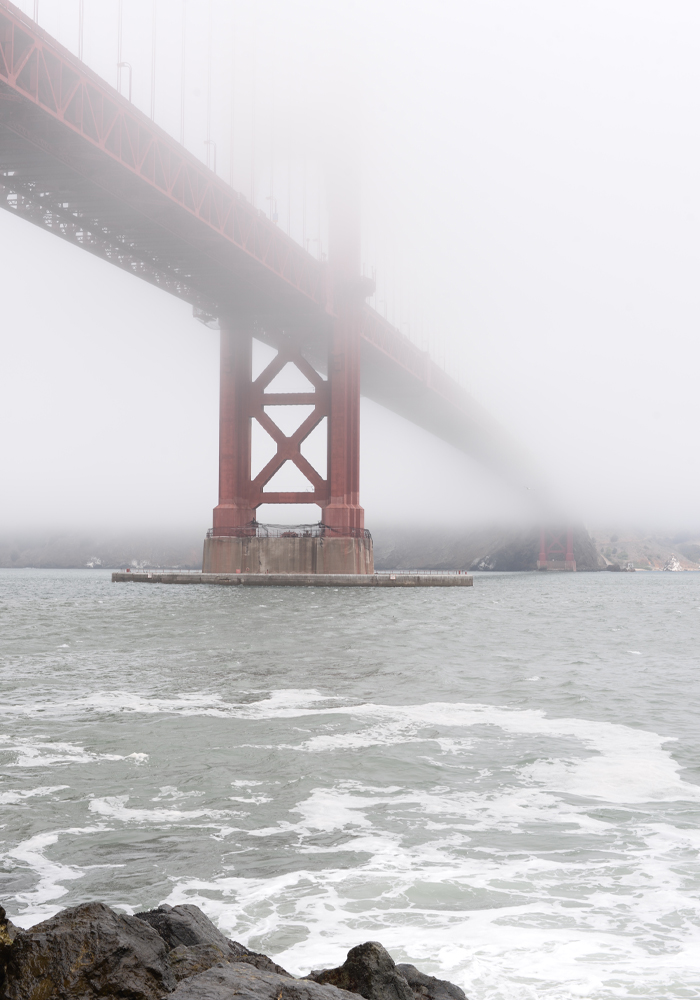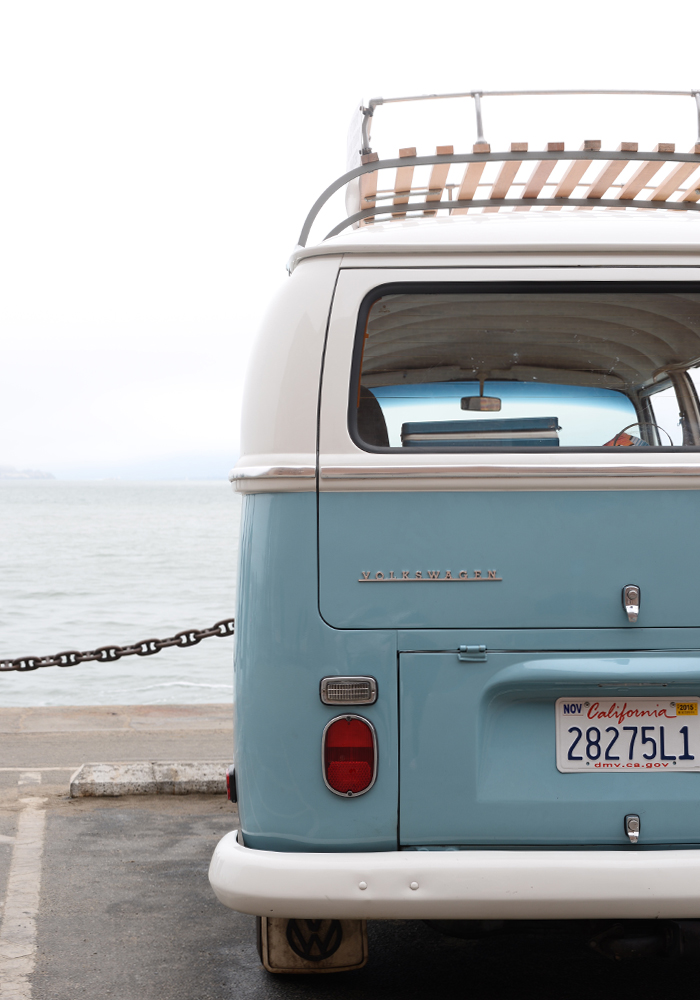 Is there anything more representative of San Francisco than a vintage Volkswagen van?! This one was just too good – it was really showing off. We wasted no time getting to the touristy stuff – bring on the cable cars! FYI – I had been calling them trolleys the whole time (along with the kids) and then learned the difference between the two. All four of us had our first cable car experience together – I honestly think I was more excited than the kids. They loved everything about it – the sights, sounds, and steep climbs. The screeching sounds weren't my favorite, along with the stranger's butt I had in my face…but other than that, I loved it! We chose to ride the Powell Mason line, and went all the way to the end of the line – the conductor kindly offered us a few minutes of time for photos after everyone had left (which is how we managed the photo below). The grand finale was watching the turnaround, which was fascinating and so fun for the kids.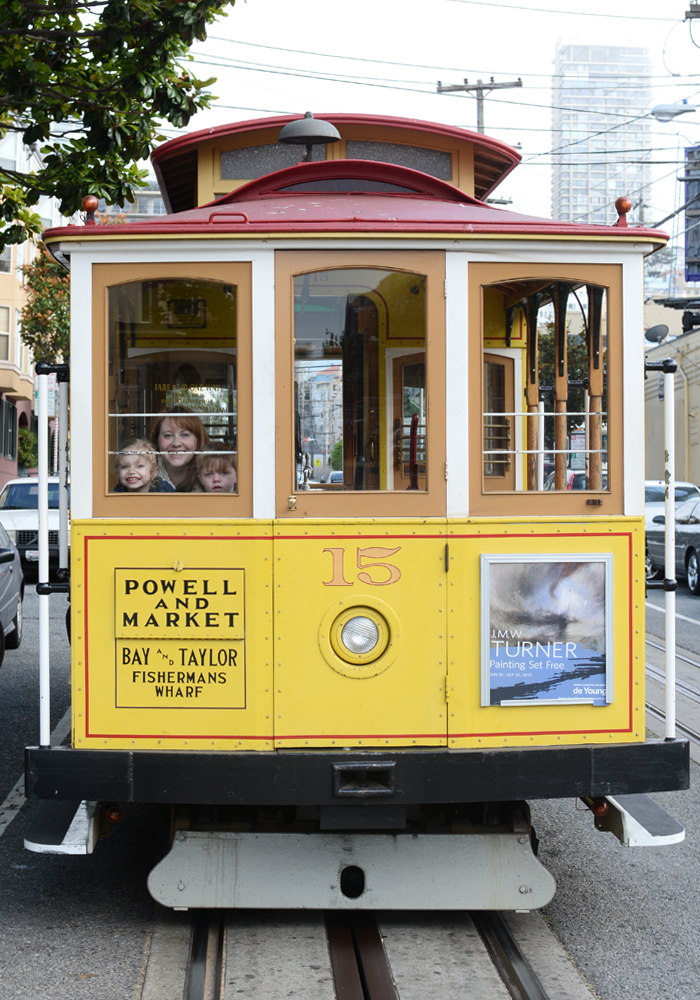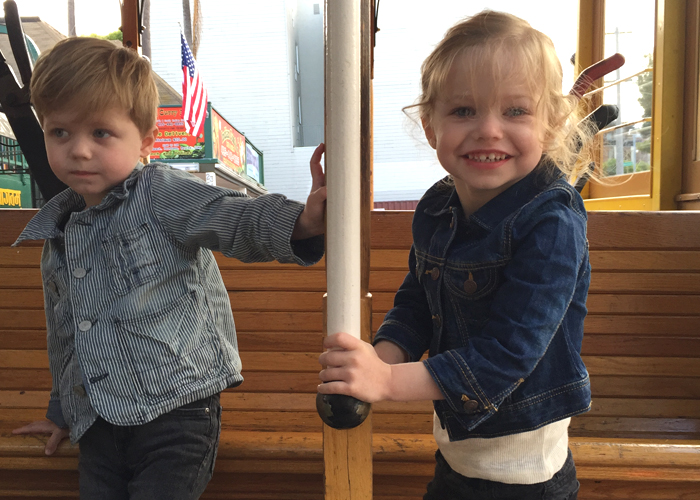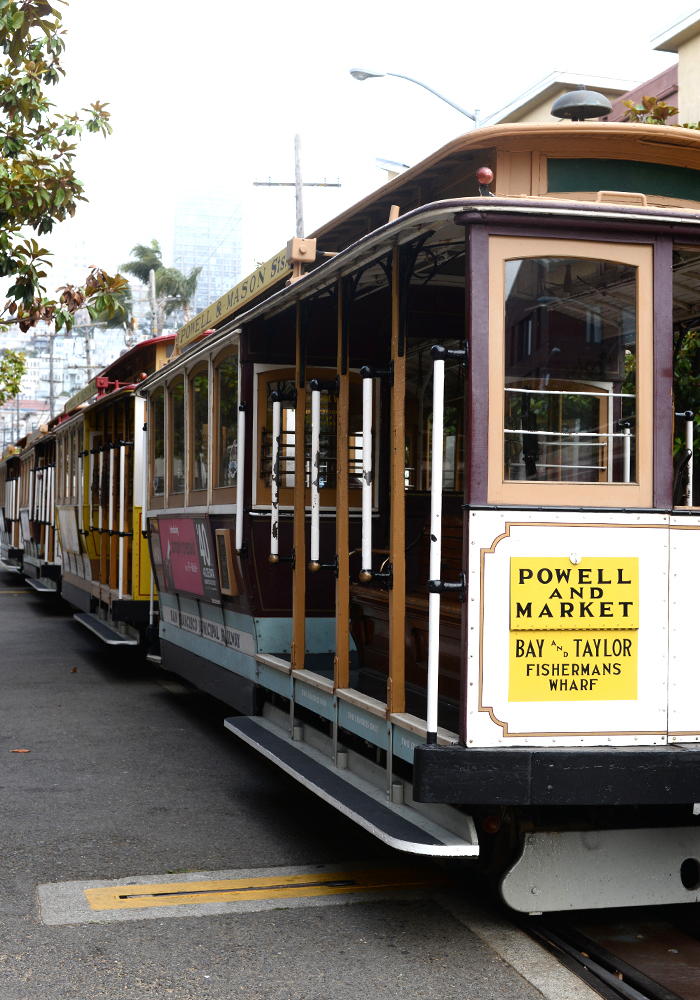 Afterwards, we joined the masses and walked down to Fisherman's Wharf…a bit touristy for my taste, but just one of those things you should experience at least once. Our first stop was the Musée Mécanique, which houses over 300 vintage mechanical machines + games, but we mostly went for the vintage photo booth. It's a quirky fun museum, it has a photo booth, and it has a French name – what's not to love?! We got a bit wrapped up in the arcade games before heading across the street to dinner at the flagship Boudin. I'm shockingly bad (for a blogger) at taking photos of restaurants + food…and while I did take a few at Boudin, they're not all that interesting. It's great bread, and it's pronounced "bo-DEEN", much to my dismay…that's about all you need to know. Needless to say, we were exhausted that night.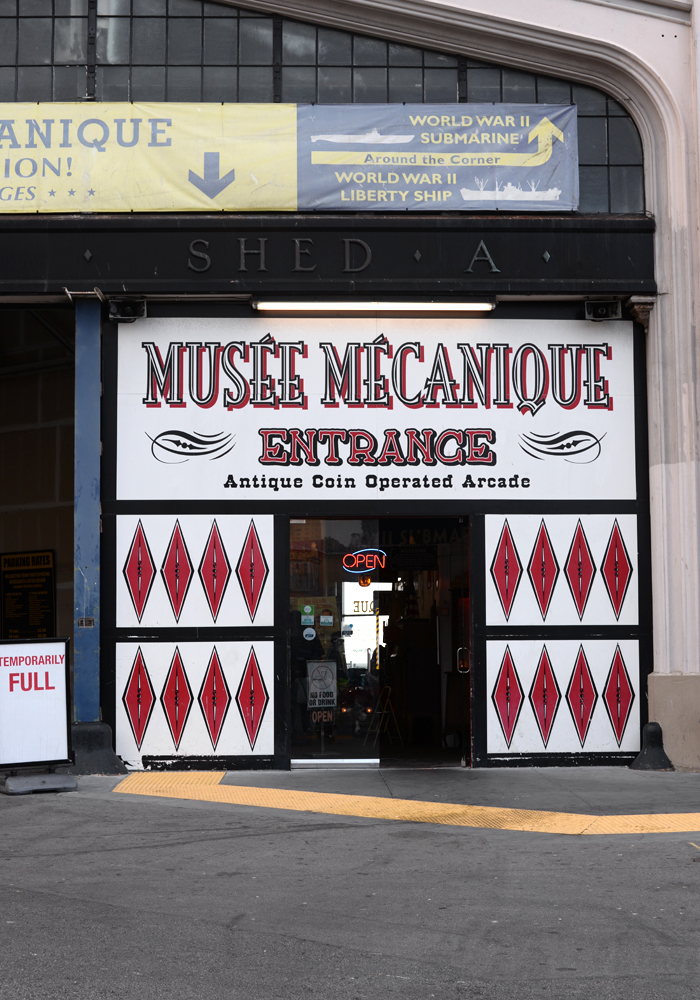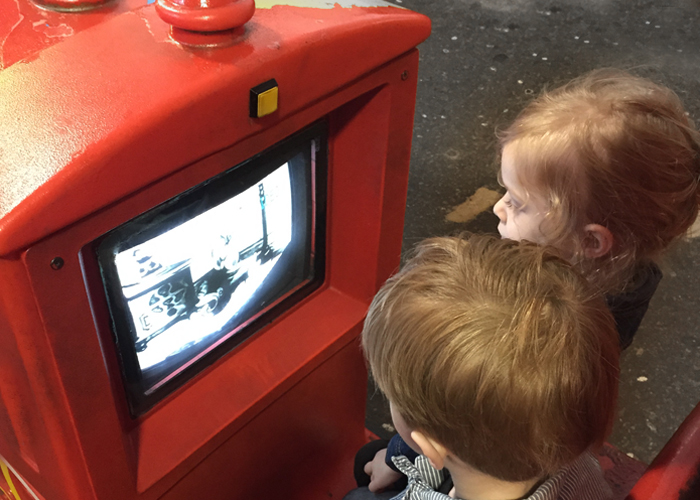 The next day was also jam-packed – we ate our way through the Ferry Building (again, so bad at taking food + restaurant photos). It was very crowded and tricky to navigate with the kids, but we managed it. I was most excited about Miette (sweet tooth), and Parker was most excited about Blue Bottle (coffee tooth). With full bellies we headed over to see the Painted Ladies, and took the kids to the Alamo Square playground. They had a lot of fun while we enjoyed awesome views of the city. We did a drive-by of Lombard Street on the way back to the hotel for naptime, and I jumped out and walked it alone. Holy tourists (and yes I acknowledge I was one of them)…but whoa. I couldn't get out of there fast enough.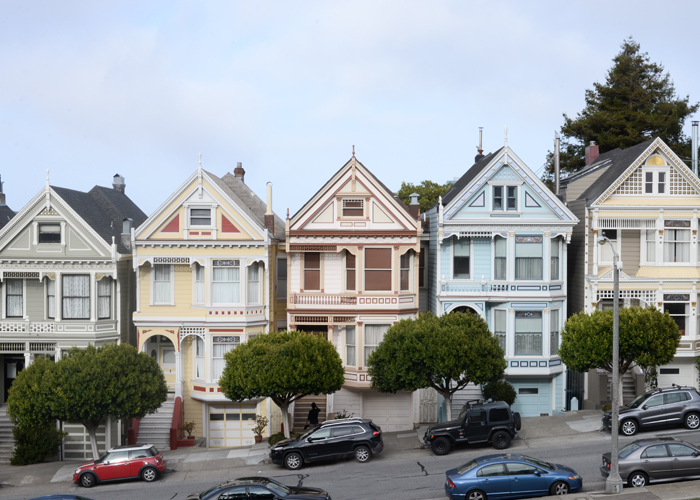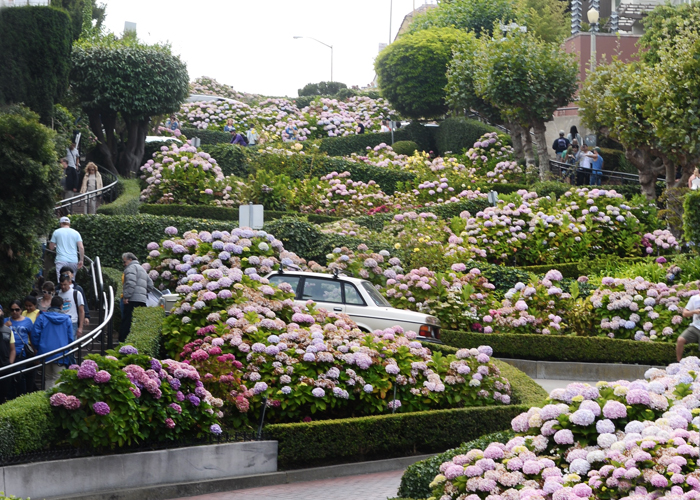 Day three was spent in the Mission, which might just be my favorite neighborhood. With Parker working, my lovely friend Annie of MontgomeryFest sweetly accompanied us to the Dolores Park playground. We got there early and thankfully avoided the crowds (because I was warned it could be a scene).While Dolores Park is quite the hang out for many (and just walking by can provide you with a pretty good contact high), the playground is removed enough that it feels like another world. It is officialy the most amazing playground we've ever been to. Henry + Marie were so brave and went down the big slide all by themselves – and it is crazy scary looking from the top (I was even a bit hesitant). We could have stayed there all day – so much fun and so many photo ops…I'll spare you the other thousand I took.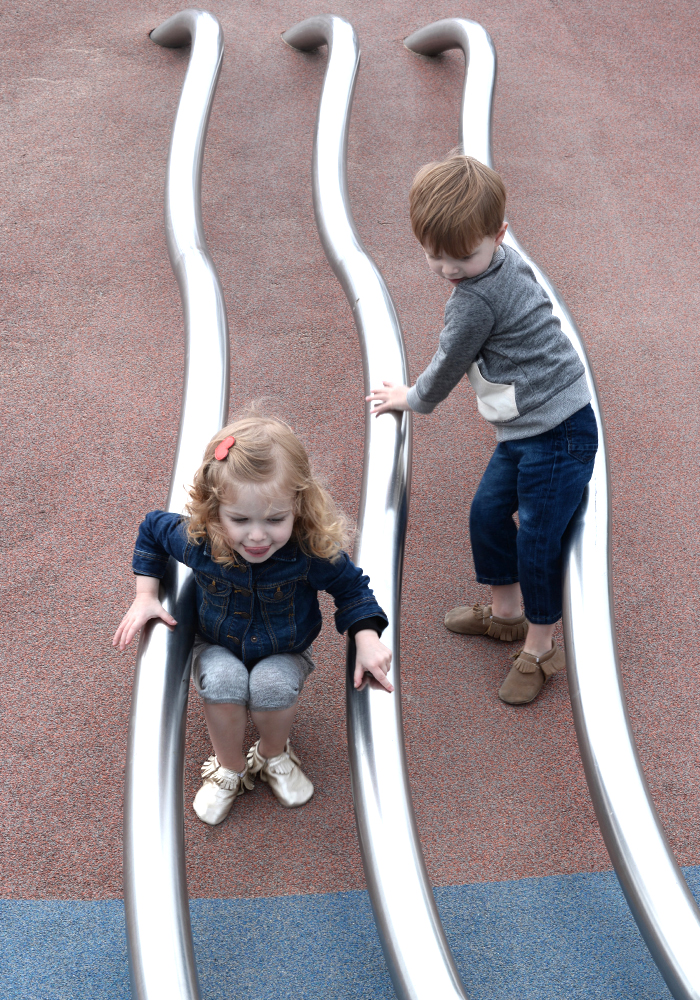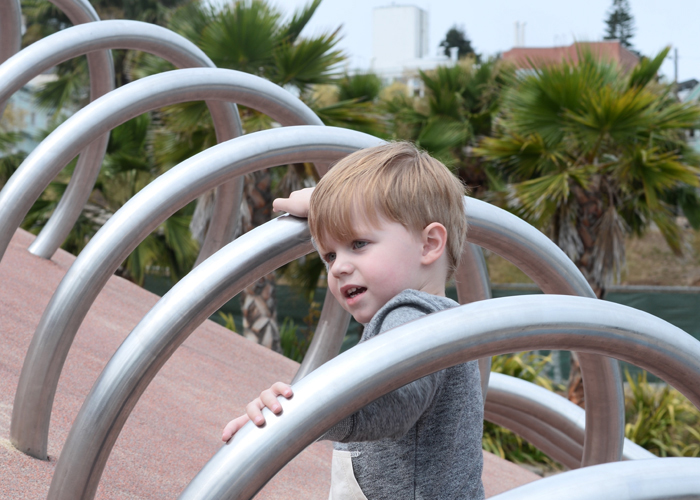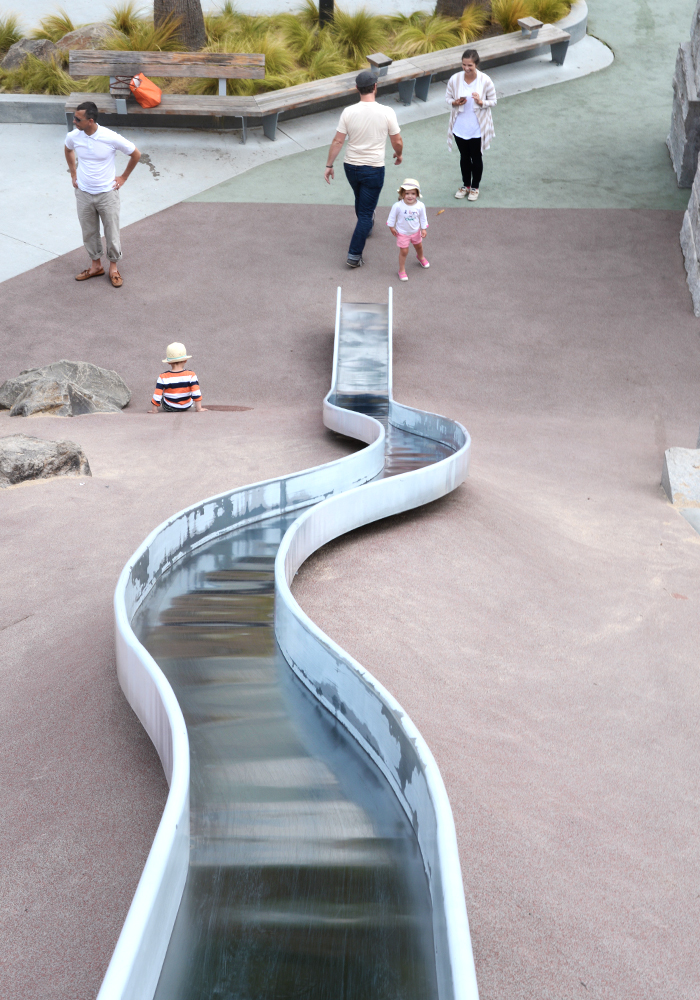 After the playground, we grabbed lunch across the street at Dolores Park Cafe. It's super kid-friendly, with great service, yummy food, and close proximity to the park and Bi-Rite. We made sure to leave plenty of room for Bi-Rite Creamery, and we got so lucky…no line!! I wasn't sure it would live up to the hype, but oh man, did it ever. I chose two scoops – a combo of salted caramel + honey lavender. With my apologies to Berthillon, it's the best ice cream I've EVER had. Kudos to Annie for the awesome birds eye ice cream shot below. Later that evening, we went back with daddy to give him the experience, and the line was around the corner!! Needless to say, waiting (that long) is not for those with toddlers in tow. However, I remembered a trick I had read and walked right in to pick up a pint, which we promptly all shared outside. We ended the evening with a stop into Tartine for a fresh batch of pastries and a croissant bigger than my hand.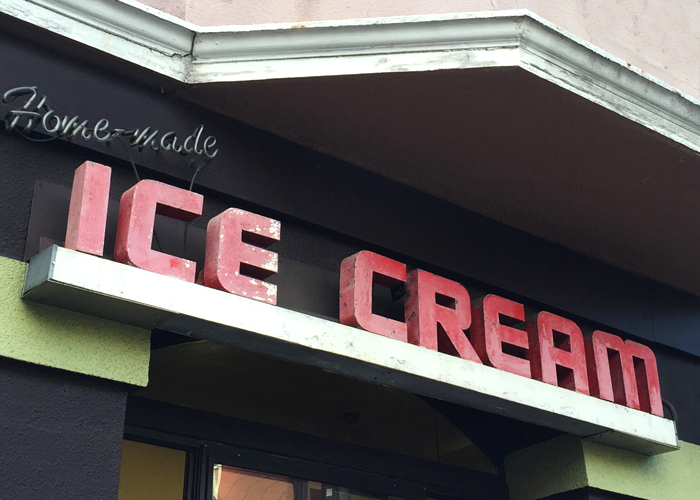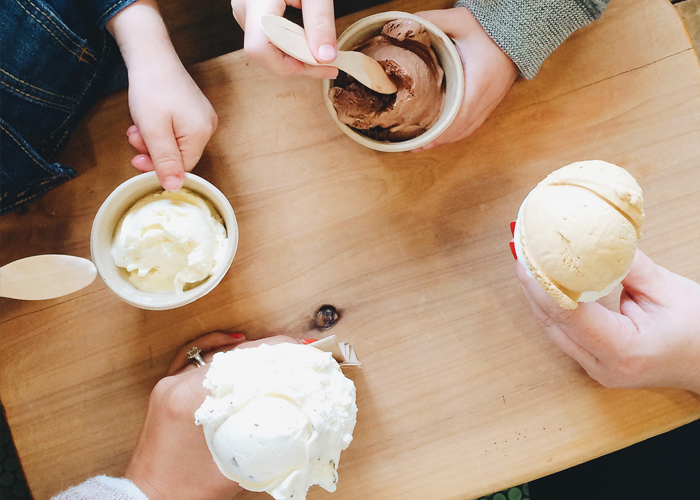 Our last day was a bit hectic – Parker had to work all day so I took the kids to Golden Gate Park. I don't have too many photos from the morning, but we went to the playground (awesome), and then were first in line for a ride on the beautiful vintage carousel. Afterwards we walked to the Academy of Sciences which kept us happy + busy until after lunch. We met Claude the albino alligator and explored the aquarium, walked through a rainforest, and studied (human and animal) skeletons. It's truly an incredible place – not to missed with kids!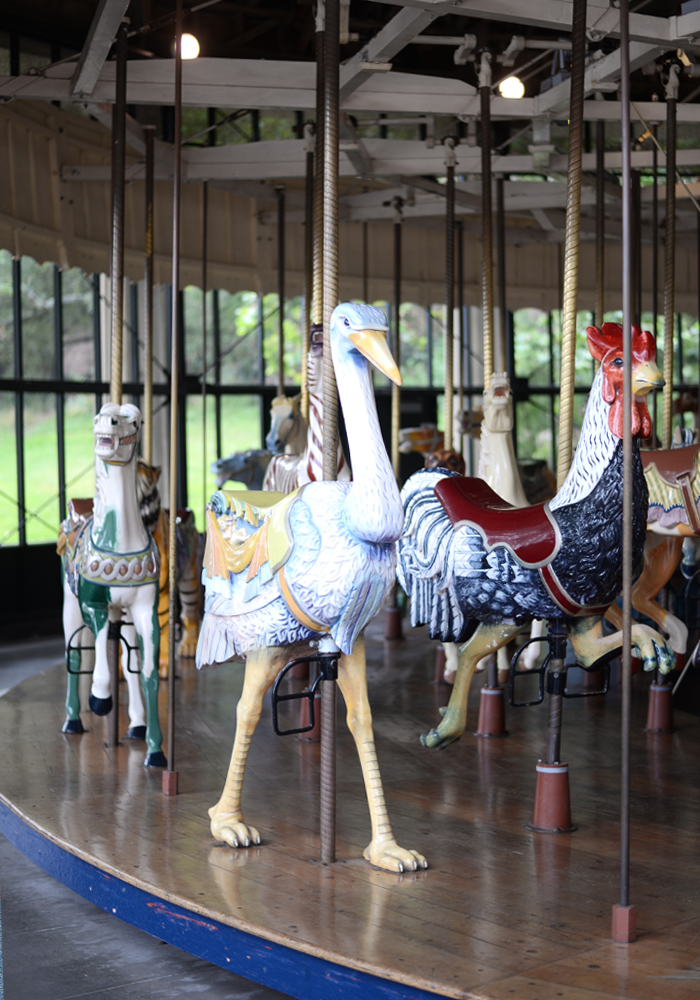 We met up with Daddy for the afternoon and went to Baker Beach, which I chose (after some polling) for the view and proximity to Golden Gate Park. Finally seeing the bridge without fog was a treat, and after some playtime à la plage, I walked down to the northern end by myself to get a few more photos. I had been warned, and indeed, I did come across a small group of nudists there! Sand + sun will certainly wear you out, and we all took a long nap that day and ordered room service. While there are always things we didn't get to see, we managed a lot during our trip and left feeling enlightened and accomplished. However cliché it may be to say…we left a few hearts in San Francisco. We would love to return soon.