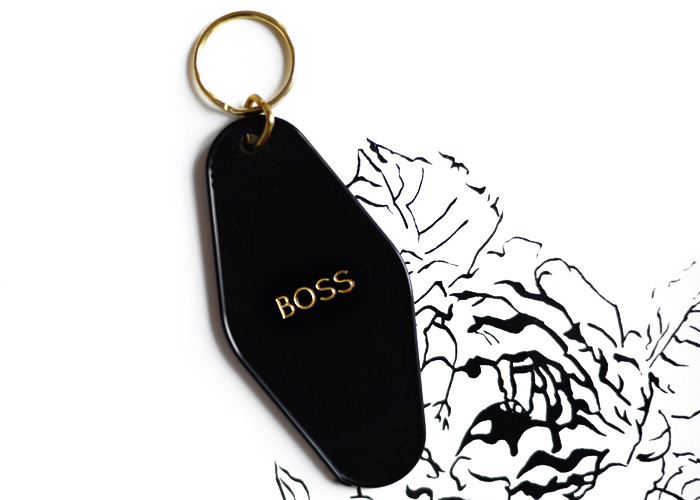 I was born to be an entrepreneur. It became clear at a very young age that I would always follow my passions and forge my own path. Thankfully, my parents fostered this independent spirit and supported my (often very lofty) dreams. Some of my earliest memories consist of inventing "businesses". First it was a nail salon in my basement (at the ripe old age of eight), where I charged my friends ten cents per nail. Then came my door to door custom bookmark venture, which was lucrative enough to fill my piggy bank and fund my very first business cards! I actually found one in my memory box recently, and had a good laugh over the name. What was my very first business name you might ask? TA-DAH! Yep. While my business name has seen many alterations over the years, my purpose has remained the same–being boss.
My entrepreneurial status didn't become official until 2007, when after paying my dues and learning from the best in the retail + interior design fields, I launched my own firm and incorporated. I decided to take the leap and build my wings on the way down, as they say. It was equal parts exhilarating and terrifying. I took on a part-time job at a fine linens boutique to supplement my income until I grew my client base to a sustainable level. Side note: as fate would have it, that's where I met my husband. I hustled hard, and through word of mouth, gained more clients, and in turn, more confidence. I was (slowly but surely) earning a living, making ends meet, and pursuing my passions. I was fortunate to do so, and still am.
Fast forward nine years later and I'm still hustling. Even with a good portion of the financial burden lifted thanks to my husband's income, it hasn't altered my drive or entrepreneurial spirit. It hasn't affected my desire to be my own boss, to push myself harder, and to never settle for satisfactory. Of course there are days when I want to quit…when the work is overwhelming, when I don't feel appreciated, when I'm exhausted (i.e. the work/life balance myth). Both the burdens and rewards fall on my shoulders – that is the price I pay for autonomy. I alone hold the keys to my failures, and my successes, and that is a powerful feeling–one that I can't ever imagine giving up. If you've dreamed of being your own boss, pull the trigger. Don't let fear hold you back. The end result isn't necessarily the marker of your success – it's the guts and glory of accepting the challenge (and continuing to do so when the going gets rough). That, as the cool kids say, is BOSS.